INFRASTRUCTURE: Electrification, double-tracking and new line construction feature strongly in an expansion programme that will see South Korea's rail network expand by 12% over the next eight years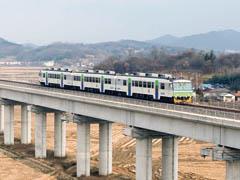 'We have a great mission, to muster our power and wisdom to transform railways into a major growth engine of the 21st century', said Kim Jeong-Joo, Acting Chairman & CEO of Korea Rail Network Authority, adressing WCRR delegates in Seoul on May 20.
Kim believes KR is already setting the pace, taking advantage of a 'paradigm shift' as people start to appreciate rail's environmental and economic benefits and 'put far greater value on the rail mode'.
Since it was established in 2004, KR has been pushing ahead with new line construction, upgrading and electrification, and the development of urban lines to serve the Seoul metropolitan area. And Kim says there will be no let-up in the pace of development.
According to Sim Hyeonk-Yun, Dir­ector-General of Railway Policy at the Ministry of Land, Transport & Maritime Affairs, 204 000bn won has been allocated for railway investment in 2006-10, of which 131 000bn is coming from central government, 11 000bn from local government and 62 000bn from outside sources including private-sector investment. For 2011-15, he says, central government will increase its contribution to 185 500bn and local government spending will rise to 14 500bn.
Between 2007 and 2015 the KR network is expected to grow from 3 399 to 3 815 route-km. At the same time, the proportion of double-track lines will rise from 41·3% to 63·8%. The result is forecast to be a significant increase in rail's market share from 8% to 15%.
Sim says the high level of investment is designed to overcome a backlog in rail spending between 1980 and 2001, apart from the Gyeongbu high speed line and the Seoul metropolitan area. That resulted in a decline in passenger traffic from 185 to 110 million passengers/year and in freight from 49 to 43 million tonnes. With rail now expected to meet a bigger share of national transport demand, much of the network needs upgrading to improve both quality and capacity.
As well as two high speed lines, the ministry's long-term plan envisages construction of six east-west and four north-south lines to fill gaps in the conventional network. Sim says a high priority for the next few years will be to tackle several emerging bottlenecks:
construction of a dedicated high speed line into the centre of Seoul, to relieve acute congestion on the Seoul – Siheung section which KTX trains now have to share with long-distance and regional services;
double-tracking several main lines to accommodate an increase in freight traffic;
further expansion of rail capacity in the metropolitan area to help mitigate growing road congestion.
In addition, the original Gyeongbu line between Seoul and Busan is to be transformed into a high-capacity freight corridor following completion of the second section of the high speed line in 2010. The southern portion of this line was electrified in 2004 to permit KTX services to reach Busan, and wiring of the final section near Cheonan was completed last year.
New line projects
According to Kim, KR sees its high speed rail projects as 'a core engine of growth', helping to give the railway industry greater prominence. Work is pushing ahead on the second phase of the Gyeongbu high speed line, between Daegu, Gyeongju and Busan, which is due to be completed by the end of 2010. Last year KR invested 789bn won on this project alone.
KR reports that civil works have been completed in 11 of the 18 sections, and tracklaying is proceeding rapidly. Much of the line is being laid with Rheda 2000 ballastless track, using UIC60 rails from Posco and Pandrol Fastclip assemblies. The rails are being welded up into 300 m strings at KR's Central Track Engineering Facility at Osong — the former construction base for Phase 1 — prior to delivery. According to J H Kim of Pandrol Korea, tracklaying is averaging around 800 m a day, with a record 1 200 m completed in one day earlier this year.
Meanwhile, design work is in full swing on the 231 km Honam high speed line, where construction is expected to start next year. This will diverge from the existing route at Osong to serve Iksan, Gwangju and Mokpo. The 182·2 km as far as Gwangju was originally to be completed in 2015 and the final section to Mokpo in 2017, but South Korea's President Lee Myung-Bak now says he wants to see the line operational to Gwangju before his term of office finishes in 2014.
Costing 10 500bn won, the new line will cut the total distance from Seoul to Mokpo to 320 km compared with 410 km for the existing route via Daejeon. Fastest journey times will be halved to 1 h 46 min.
The existing Honam line has already been electrified to accommodate through KTX trains from Seoul, and work is now underway on a similar upgrading of the Jeolla line which diverges from the route at Iksan to serve Suncheon and Yeosu. With the coastal city selected to host the Korea International Expo in 2012, KR began work in December 2003 on complete reconstruction of the 32·4 km Suncheon – Yeosu section at a cost of 650bn won. Double-tracking and electrification is now 70% complete and on course to be finished by the end of 2009.
At the southern end of the Gyeongbu corridor, the opening of a new deep-water port at Gwangyang, west of Busan, has triggered double-tracking and upgrading of several lines in the area. The route running northeast from Busan to Ulsan is being double-tracked and electrified to accommodate an intensive suburban passenger service as well as more long-distance freight.
KR is working on double-tracking and electrification of the east-west line from Samrangjin to Masan and Jinju, which parallels the south coast. This will permit the introduction of KTX services to Jinju; in the longer term the wires will be pushed west to meet the upgraded Jeolla line at Suncheon.
The final section of this line beyond Suncheon turns north at Boseong towards Gwangju. KR started building a direct cut-off from Boseong to Mokpo, but work was suspended for lack of finance and no schedule has been set for construction to restart.
To facilitate the development of international rail freight, KR's master plan includes the development of a north-south corridor along the east coast. This is intended to connect the ports around Busan with the Trans-Korean Railway and eventually with the Trans-Siberian landbridge via the revitalised Rajin border crossing between North Korea and Russia. The route would incorporate the short section of cross-border line north of Jeojin which was relaid for the reopening ceremony in May 2007 but as yet is not connected to either network.
KR officially started work in March 2008 on the 166 km Pohang – Samcheok route which forms the southern part of the new corridor. This is initially being built as a single-track line for 150 km/h operation, and is expected to be completed after 2014 at an estimated cost of 2 400bn won.
The Gangneung – Jeojin section is also due to be completed by 2014 at a cost of 1 800bn won, although no start date has been agreed because of the recent suspension of official talks between South and North Korea. This 110 km single-track route aligned for 200 km/h running would replace an older line which was dismantled after the Korean War.
Metropolitan expansion
With more than half of South Korea's pop­ulation living and working in the greater Seoul area, Sim says road congestion is becoming a growing problem despite sustained investment in suburban railways and metro lines. As a result, KR is expected to add around 400 route-km to the metropolitan rail network over the next decade. Incheon has been selected to host the 2014 Asian Games, so this has set the deadline for completing many of the projects.
Work is due to start shortly on a 23·1 km line serving a new port at Wonsi, south of Incheon; this will diverge from the existing Seoul – Incheon line at Sosa. Detailed design was completed at the end of 2007, and KR is now looking to take the 1 700bn won scheme forward as a public-private partnership.
To the south of the capital, KR has completed feasibility studies for a 40·8 km orbital route costing 3 900bn won. Linking Ansan with Chongnyangni in the northeast, this would be routed via the high speed line station at Gwangmyeong, which is currently only served by a local shuttle from Siheung. The orbital line is expected to be completed by 2015.
This year is due to see the completion of upgrading work on the Yongsan – Munsan line running northwest from Seoul towards the Demilitarised Zone and Pyongyang. As well as facilitating reunification of the two rail networks, the line will carry frequent suburban trains, serving the new satellite cities of Goyang and Pajoo to the northwest of the capital. Double-tracking and electrification of the 48·6 km route began in November 1999 at a budgeted cost of 1 970bn won.
On the eastern side of the conurbation, next year will see the completion of upgrading work on the 64·2 km Geumgok – Chuncheon line, which started in December 1997 at a cost of 1 980bn won. Conversion of the single-track line to a double-track electrified route will allow Korail to extend its metropolitan services eastwards and better serve the tourist attractions around Chuncheon.
Outer-suburban services will also be introduced this year on the 90·4 km Deokso – Wonju line running southeast out of the capital. Double-tracking and electrification of the single-track line began in mid-2001 at a cost of 1 700bn won. As well as supporting a suburban service, the upgraded line is intended to form the first part of a new west-east corridor linking Seoul with the east coast town of Gangneung.
KR has completed detailed design for a 120 km double track electrified line from Wonju to Gangneung, which will be laid out for 200 km/h operation. This scheme is expected to be financed by the private sector under a build-transfer concession, and KR prepared a request for proposals in mid-2007. The project is scheduled for completion by 2014, with a target Seoul – Gangneung journey time of just 1 h 39 min.
Table I. KR investment spending on major projects in 2007-08 (bn won)
Projects
2007
2008
Change
High speed lines (2)
84·6
122·2
+44·3%
Conventional lines (28 projects)
140·0
141·8
1·2%
Inter-city routes (13 projects)
104·6
109·4
4·6%
Freight projects (5)
118·4
170·2
43·8%
Other schemes (5)
40·8
38·1
-6·6%
Total
345·2
394·2
14·2%
West coast corridors
The Wonju – Gangneung project is the first of several new corridors which the government hopes will revitalise parts of the country that have suffered from lagging economic development, and counter the dominance of the metropolitan region and the cities in the Gyeongbu corridor.
Another strand in this strategy is the construction of a new capital at Sejong, around 100 km south of Seoul. KR has already completed a feasibility study for an 88·6 km east-west line to serve the new city. This would start from Boryeong, on the coastal route between Cheonan and Janghang which has been electrified and double-tracked as far as Onyang. The new line through Sejong would meet the main line at Jochiwon, where it would connect end-on with an upgraded cross-country route to Jecheon and Donghae on the east coast.
Provisionally costed at 2 700bn won, the Boryeong – Jochiwon line would take four years to design and a further six to build, but work on the scheme is currently suspended.
Meanwhile, a 17·1 km line between Janghang and Gunsan was opened in December 2007, connecting the Cheonan – Janghang and Iksan – Gusan lines. Primarily intended for freight traffic to and from the Gunjang industrial development zone, it also carries a local passenger service. Built at a cost of 322bn won, the link has been built with a double-track formation but with only one track laid in the initial phase.
In the longer term, plans are taking shape for a line running north along the west coast from Hwayang to Wonsi in the Seoul metropolitan area.
Signalling and electrification
Electrification of the existing main lines at 25 kV 60 Hz, together with the construction of new electrified routes is rapidly increasing the proportion of KR's network under the wires. From 39·8% in 2001, the figure has already passed 53·5%, and is scheduled to reach to 79·2% by 2014.
At the same time, KR is investing in new signalling and automatic train protection to improve capacity and safety across the network. In December 2002 KNR started work on building a national traffic control centre at Guro, in the southwest suburbs of Seoul, at a total cost of 100bn won.
Officially opened in December 2006, the Guro CTC centre is owned by KR but staffed by Korail. It brings together the operations of five older signalling control centres in Seoul, Daejon, Suncheon, Yeoungju and Busan, which between them covered 279 stations.
Further sections of line have since been brought under the control of the new centre as modernisation and resignalling has been completed, and Guro now oversees the operation of more than 3 000 trains/day on 3 392 route-km serving 522 stations. However, there are still 197 stations on various secondary lines under local control which will be migrated as and when they are resignalled. The Gyeongbu high speed line has its own control centre at Gwangmyeong, although KR is looking at migrating control to Guro when the second phase is inaugurated in 2010.
The circular CTC centre has two control rooms laid out as concentric rings, with the 36 signalling workstations around the outer ring and the Scada electrical power control room at the centre. Separate workstations are also provided for CCTV monitoring of many stations, particularly on the metropolitan lines and making public address announcements anywhere on the KR network. Korail currently employs 384 staff at the centre, of which 240 are responsible for signalling and train control and 99 for electrical power supplies.
CAPTION: The Songjeong viaduct will carry the Gyeongbu high speed line extension between Daegu and Busan.
CAPTION: Rails for the Gyeongbu high speed line are welded into 300 m lengths at KR's Osong plant and delivered in trainloads of 48 strings.
CAPTION: Inside the network control centre at Guro.
CAPTION: Double-tracking and electrification of the Samrangjin – Jinju line requires major civil engineering work, including this new bridge.