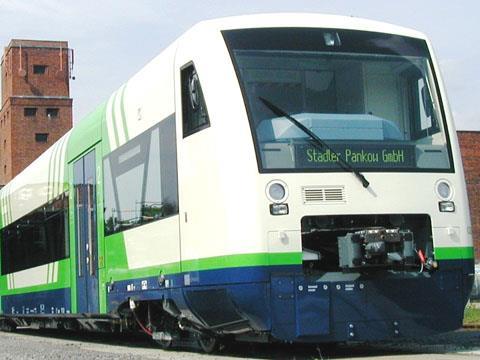 CZECH REPUBLIC: On April 20 Ceské Dráhy awarded Stadler Rail a KC1·776bn contract to supply 33 Regio-Shuttle RS1 partly low-floor diesel railcars to replace the ubiquitous Class 810 railbuses on regional services in Vysocina and Liberec.
This is the first contract under the national passenger operator's programme of extensive rolling stock renewals in 2010-14, and Stadler's first order from the Czech Republic.
CD set out its requirements in conjunction with the regional authorities. To be built at the Stadler's Pankow works in Berlin, the air-conditioned diesel-hydraulic railcars will have 70 seats and space for wheelchairs, bicycles, prams, skis and luggage.
The 17 railcars for Vysocina will have a top speed of 120 km/h and will cost KC898m, with the EU contributing KC200m. The 16 for Liberec will have a top speed of 100 km/h and cost Kc878, with the EU providing KC300m. Deliveries are scheduled for 2011-12.