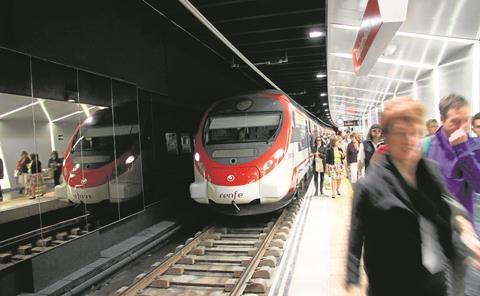 SPAIN: A 36% increase in investment for the national rail network has been put forward in the draft budget proposals for 2021 presented by Minister for Transport, Mobility & Urban Planning José Luis Ábalos on October 29.
Planned investment for all modes totals €4∙982bn, with specific funding designated for logistics, urban sustainability, sustainable mobility and the TEN-T corridors. The package accounts for approximately 50% of the ministry's overall €11bn budget for the year, of which just under €5bn is provided by the various regional administrations and the rest from central government.
In 2020, rail investment, covering both renewals and enhancements, had a budget of €3∙95bn; this would rise to €5∙6bn in 2021. The increase would mostly be directed towards higher spending on the conventional network, and in particular on Cercanías suburban services. Ábalos is only proposing a modest increase of €165m in the funding for the already extensive high speed network, taking the annual allocation to €2∙9bn.
Among the proposals backed by the ministry is Cercanías 24, an initiative aimed at transforming suburban rail services into the 'backbone' of urban public transport through the creation of multimodal hubs. This would receive €1∙5bn in 2021, 160% more than in 2020. Punctuality, reliability and information provision are all targeted for improvement, while the government has set aside €1∙2bn in grants to support socially desirable rail services under PSO agreements.
Another €4∙4bn scheme known as Viajeros y Mercancías 30 is aimed at enhancing logistics hubs, intermodal freight infrastructure and Spain's share of the TEN-T network. The 2021 budget allocates €462m for enhancements on the TEN-T rail corridors and a further €192m for rail-focused intermodal and logistics projects.