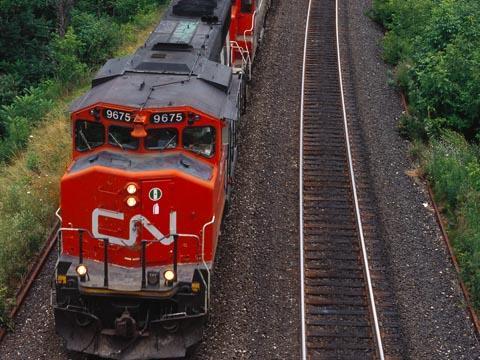 USA: The Surface Transportation Board has approved Canadian National's acquisition of the Elgin, Joliet & Eastern Railway in the Chicago area with effect from January 23.
CN had been pressuring STB to issue a decision by the end of 2008 to meet a deadline in its contract with US Steel Corp, EJ&E's previous owner. STB had estimated that a ruling would be made in the first quarter of 2009, but unexpectedly approved the $300m transaction on December 24.
Currently little-used, the EJ&E runs around the west and south sides of the Chicago area, linking Waukegan, Illinois, in the north to Gary, Indiana, in the east. Its acquisition is intended to allow CN to bypass the endemic rail congestion in central Chicago and speed through traffic by up to two days.
STB approval came with a list of conditions designed to mitigate environmental and traffic impacts. These include two grade separations primarily financed by CN, installation of surveillance cameras at some level crossings, school and pedestrian safety measures, noise reduction and a five-year environmental reporting scheme that requires quarterly submissions. In addition, the board imposed a five-year oversight period with mandatory monthly operational reports. CN must also comply with labour protection agreements and deals negotiated with Amtrak.
In a summary of its decision, STB agreed the purchase would have adverse environmental impacts but not enough to outweigh the benefits. 'Approval of this important railroad merger, with the conditions we have imposed, marks a significant step forward in our nation's efforts to alleviate rail and highway congestion' said board Chairman Charles D Nottingham. 'I am pleased that the Board agreed, in a bipartisan and unanimous manner, after an unprecedented public involvement process, to grant the relief that this merger will provide to the many Chicago neighborhoods that have been disproportionately burdened for many decades with severe rail traffic-related roadway congestion.'
CN President & Chief Executive Officer E Hunter Harrison praised the decision but expressed concern over some of STB's conditions. 'While we are pleased that the STB has approved the transaction, we are nonetheless disappointed that the STB has mandated significant additional mitigation beyond the recommendations provided in the Final Environmental Impact Statement issued by the STB's Section of Environmental Analysis with respect to the grade crossings,' he said. 'We are carefully reviewing the STB's decision.'
CN has already pledged $100m in upgrades and $60m for mitigation measures in the lineside communities. The railway has also reached separate agreements with at least seven towns promising specific improvements in exchange for their support. But many other municipalities, seeking to compensate for increased freight traffic, want grade separations and noise and vibration abatement costing hundreds of millions of dollars. Approximately 40 towns remain opposed to the transaction, and are threatening to appeal the decision to Congress or file lawsuits to reverse it.