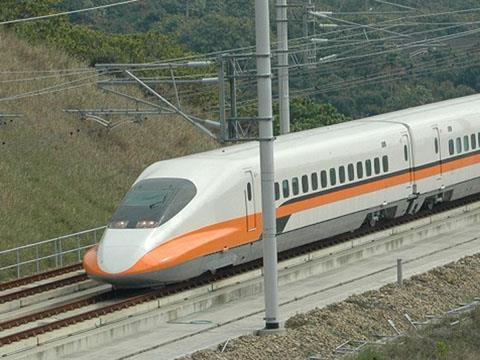 TAIWAN: When it opened in May 2007, the Taipei - Kaohsiung route was hailed as 'the world's first privately-funded high speed line', but Taiwan High Speed Rail Corp has been finding times tough. Whilst traffic has risen steadily to an average of 87 000 passengers/day for the first half of this year, this is far removed from the optimistic 275 000 forecast by the government when the project was launched.
There have been rumours that THSRC was in financial trouble, and could end up being taken over by the government. Earlier this year we received reports of belt tightening. Completion of the eastern extension from Taipei to Nankang is now on hold indefinitely, and work on the outstanding intermediate stations has been stopped. Several departments have been merged or abolished, with a voluntary redundancy scheme to reduce the payroll from 3 600 to 2 500.
In a tale that has many parallels with the Eurotunnel saga, Taiwan's NT$500bn high speed line was 80% funded through bank debt, leaving a legacy of huge interest payments. In 2008 THSRC reported revenues of NT$23bn, but interest payments of NT$17·4bn and what Chairman Nita Ing described as 'unreasonable' depreciation charges of NT$18·9bn led to an overall deficit of NT$25bn. In the two years since opening, the railway has racked up losses of NT$67·5bn, equivalent to two-thirds of its equity capital.
On July 13 the Ministry of Transport & Communications announced that it had signed a memorandum of understanding with THSRC and the Bank of Taiwan, paving the way for a refinancing deal to be concluded by the end of this year. A BoT-led consortium of no more than 10 banks will provide a new loan to pay off two syndicated loans and a bond issue totalling NT$390bn. As well as resetting the grace period on capital repayments, this is expected to result in a much lower interest rate of around 2·6%.
As with the Eurotunnel refinancing concluded earlier this year, simplification of the capital structure would seem to be the right way to go. But with limited liquidity in the financial markets, it may not prove easy to find 10 banks willing to lend up to NT$40bn each, even with government pressure behind the scenes.