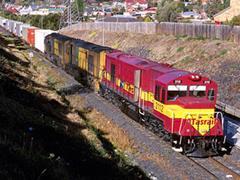 AUSTRALIA: The Tasmanian government and Pacific National announced on September 7 that they had successfully concluded the 'lengthy and highly complex negotiations' for the state to buy the island's railways for A$32m.
Subject to approval from the state parliament the transfer will be completed on December 1, with a new state company owning and operating the 726 km network.
'Through this purchase of the Tasmanian rail business, the government is ensuring that rail continues to be a viable transport option in Tasmania, delivering both ongoing certainty of rail services to customers and job security to all PNT employees' said Minister for Infrastructure Graeme Sturges.
Pacific National acquired the 1 067 mm gauge rail network in 2004, but its parent company Asciano now plans to focus on core activities. 'We are all relieved to see this deal done', said Managing Director & CEO Mark Rowsthorn.