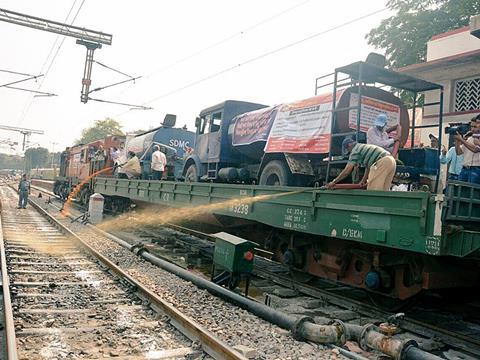 INDIA: With the Indian capital battling an outbreak of dengue and chikungunya, South Delhi Municipal Corp teamed up with Northern Railway's Delhi Division to tackle the perennial problem of mosquitoes breeding in bodies of water alongside the rail network.
NR put together a special train to inspect key railway corridors across the National Capital Region during the peak mosquito breeding season in August and September, spraying insecticide to 'sanitise' lakes and ponds up to about 50 m from the track.
Hauled by a WDG-3A diesel locomotive, the train was formed of an inspection saloon, brake van and a flat wagon carrying a truck-mounted power sprayer provided by SDMC.
Northern Railway's Divisional Manager for Delhi Arun Arora told The Hindu that the special train 'will mitigate health hazards of breeding of mosquitoes in the burrow pits alongside construction sites and rail tracks', contributing to improved public health and the safety of officials, as well as people living near the tracks.
Flagged off by NR General Manager A K Puthia and SDMC Commissioner P K Goel on September 23, the 'Terminator on Wheels' is being deployed on various routes in a series of two-day cycles each covering around 100 route-km.
The first spraying run covered the Delhi Ring Railway, running from Hazrat Nizamuddin to New Delhi via Lajpat Nagar, Sewa Nagar, Lodhi Colony, Safdarjung, Patel Nagar, Kishanganj and Dayabasti. Subsequent specials treated the lines to Sarai Rohilla, Delhi Cantonment, Palam, Gurgaon, Adarsh Nagar, Badli, Shahdara, and Tilak Bridge.