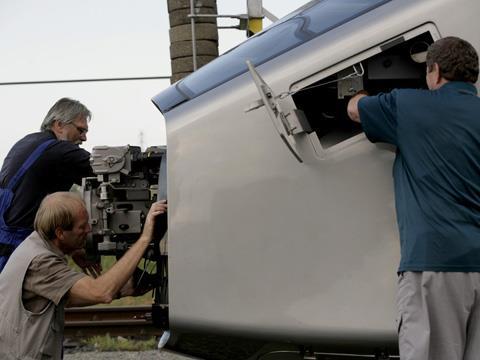 CZECH REPUBLIC: Following 7 500 km of trial runs at up to 360 km/h on LGV Est in France, Alstom's AGV demonstrator trainset has returned to the Velim test circuit east of Praha to be fine-tuned to the requirements of launch customer NTV.
As well as meeting Europe-wide Technical Specifications for Interoperability, the 25 production trains ordered by the future open-access operator will have to comply with Italian domestic standards. To speed the approvals process, a customised Italian version of the onboard software has been installed on the demonstrator trainset for testing, and the cabs are fitted with a second screen providing Italian specific SCMT data alongside the European standard ERTMS screen. Other national requirements include LED lighting at each end of the train.
Alstom built the demonstrator trainset as a mobile laboratory. It can be reconfigured to suit national and customer-chosen standards, which Alstom says will simplify and speed customisation of the AGV design to meet the specific needs of future clients. Two cars contain test equipment linked to 2 000 onboard sensors, powered by generators in a third car. The fourth car holds spares, while a fifth provides facilities for the engineers.
The current round of testing is focusing on wheel-rail dynamics, looking in particular at performance on curves and sub-optimal track. Roof-mounted cameras are being used to verify the performance of the pantograph design which was selected following previous tests. This latest stage in the approvals programme runs until September 15, with the train expected to cover around 10 000 km as it provides details of any refinements needed for Italy. In October it will go for final trials on the Roma - Firenze high speed line lasting until March 2010.
Alstom's La Rochelle plant has already begun assembling the first production AGV vehicles, with the deliveries to NTV to begin next year for commissioning in 2011.