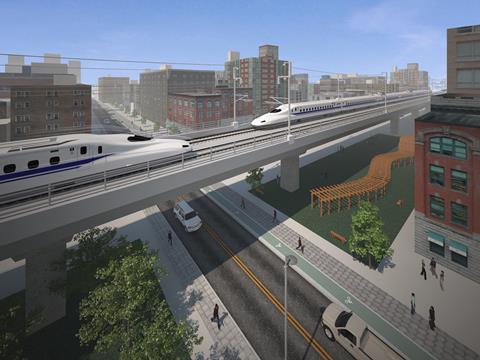 USA: Dallas – Houston high speed project promoter Texas Central says it is optimistic of securing financial close by the end of next year, which would enable construction to begin.
Worth an indicative $20bn, the privately funded high speed railway is intended to link Dallas with Houston in around 90 min. Speaking to Railway Gazette, External Affairs Director Holly Reed said that Texas Central had 'assembled a dream team' of international partners to exploit a 'unique opportunity' to rethink 'what Americans consider a train to be'.
On September 13, Texas Central announced that it had signed a design-build contract for civil works with Salini Impregilo Corp. The contractor had been named last October as the preferred bidder to deliver the civil works, railway equipment and related assets. This includes design and construction of the viaduct and embankment sections along the 385 km route, installation of the track subsystem and construction of maintenance buildings.
Before construction can begin, Texas Central needs two key regulatory approvals from the Federal Railroad Administration. Reed reports that good progress is being made on both the safety case and the environmental approvals. On September 4, FRA granted Texas Central's petition on the Rule of Particular Applicability, which will see the high speed line regulated under 'a comprehensive set of custom rules that will meet or exceed all FRA mandates', according to Texas Central CEO Carlos Aguilar.
A draft environmental statement was issued by FRA in December 2017, finalising the planned alignment and confirming the station sites. The final environmental approvals are due next year, after which Texas Central would go to market to finalise investment ahead of financial close. Reed says that Citibank and Mitsubishi UFJ Financial Group are acting as advisors, and she expects the programme to be backed by 'a strong appetite for infrastructure investment among pension managers, hedge funds and sovereign wealth funds'.