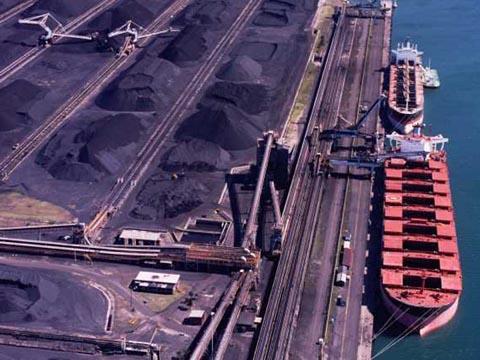 SOUTH AFRICA: A derailment near Overvaal on September 4 of 42 laden coal wagons forming part of a 200-vehicle train blocked the busy Richards Bay line for at least two days. The latest in a series of problems, the blockage sparked further concern among the country's coal mining companies, who are becoming increasingly restive about the inability of Transnet Freight Rail to move their traffic.
The seven large mining groups and smaller partners which jointly operate the Richards Bay Coal Terminal are investing R1bn in the Phase V expansion programme, which will lift the port's capacity from 72 million to 91 million tonnes a year when completed in mid-2009. They are also ramping up their own operations to meet strong world demand for coal.
According to Executive General Manager Mxolisi Mgojo of Exxaro Resources, Phase V will lift its export capacity from 4 million to 6·3 million tonnes/year, and the mines could be producing 10 million tonnes within four or five years. The other miners have similar objectives. Mgojo reports a 'positive engagement' with TFR, but he remains concerned that the railway will be unable to provide sufficient capacity.
Transnet presented a report to the parliamentary Committee on Public Enterprises on August 26, in which the state-owned holding group announced that it had successfully completed its 'turnaround strategy' adopted in 2004. Group Chief Executive Maria Ramos said the strategic goal was 'to create freight transport capacity at a lower cost to the economy through supply chain integration across functions and divisions', with TFR focusing on 14 key corridors including the coal line.
The corridor strategy lies at the heart of Transnet's port and railway Master Plan, which was recently endorsed by Minister of Public Enterprises Alec Erwin and awaits government approval. This includes an R80bn investment programme, which will see R9·4bn spent on the Richards Bay line, where the purchase of 110 new locos will help to boost ?capacity to 81 million tonnes/year by 2012. However, TFR says any further increase to 91 million tonnes would be dependent upon demand and feasibility studies.
Frustrated by slow progress, mining executives meeting in Johannesburg for the Coaltrans conference on September 8 suggested that the time had come to look at private investment in rail capacity. One option would be for the coal producers to fund new locos, wagons and sidings, on the same basis as TFR's recent deal with Kumba Resources to upgrade the Sishen – Saldanha iron ore route (RG 9.08 p555).
Others are looking at the possibility of setting up private or part-private operators to compete with TFR. Pointing out how the 'great train drought of 2008' was hurting the smaller companies in particular, Tom Kearney of Bisichi Mining suggested that 'there needs to be a re-think of how new capacity can be provided'.