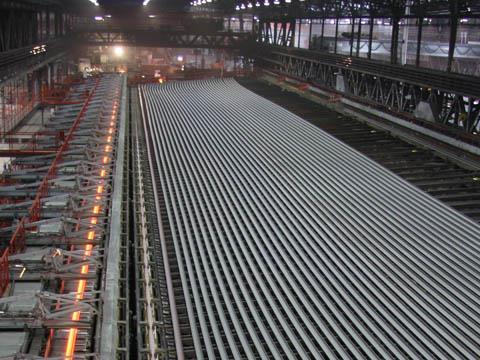 AUSTRIA: Reflecting a steady transition from standard grade rails to high-strength premium steel grades, Voestalpine has recently inaugurated a new heat treatment facility at its Leoben rail rolling mill in Austria.
According to the supplier, this is the largest dedicated rail mill in Europe, able to produce a broad range of different sections in weld-free lengths of 120 m. Having replaced the complete rail rolling line three years ago, Voestalpine commissioned the replacement heat treatment facility at the beginning of this year, and this is now in full production, lifting its installed capacity for heat-treated premium rails to around 500 000 tonnes a year.
The company reports strongly increasing demand for heat-treated rails, sugges­ting that the traditional 880 N/mm2 standard grade rail has reached its limits for economic application on many main lines. Practical trials in co-operation with railways all over the world have confirmed that heat-treated rails offer a significant extension in rail life and resistance against the development of rolling contact fatigue, offering improved track availability and a calculable saving in life-cycle costs.