Book review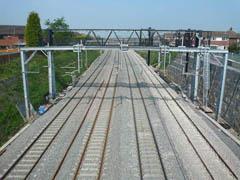 By Mark Casson
At the start of this year the UK government announced the creation of High Speed 2 to study options for the development of a high speed rail network in Great Britain; its report is expected to be published early next year, building on work undertaken by Network Rail and Greengauge 21.
But governments in nineteenth century Britain took a much more hands-off approach, allowing private and local interests to develop a rail network which, though extensive, was open to criticism for duplication, inefficiency and inconvenience.
Could things have been done differently?
Mark Casson is Professor of Economics at the University of Reading, and in this unusual - perhaps unique - and detailed study he undertakes a thorough analysis of what a more efficient network would look like.
The resulting counterfactual network is put forward as the most efficient alternative that could have been constructed given what was known at the time. Casson concludes that a better planned network of just 20 800 km of railways could have served the country better than the 32 000 km actually built.
In reaching this conclusion he looks in depth at the economic factors behind railway development, analysing how regional monopolies appeared and led perhaps inevitably to a less than ideal network.
He provides a detailed analysis of regulatory policy, arguing that factors including the defeat of Napoléon and the 1832 Reform Act had created a locally-focused political, legal and commercial environment which was unable to handle the demands of the 'Railway Mania' period.
The 560 pages include guides to a range of historical sources such as deposited railway plans, as well as the mathematical background to optimising networks.
ISBN 978-0-19-921397-9
£60 from Oxford University Press, Saxon Way West, Corby, Northamptonshire, NN18 9ES, UK www.oup.com