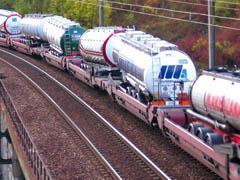 In a keynote speech opening the Freight without Frontiers conference, French Secretary of State for Transport Dominique Bussereau gave details of his government's views on further development of autoroute ferroviaire services. He said that France and Italy had decided to continue beyond 2008 with the pilot shuttle service over the 175 km between Aiton-Bourganeuf and Orbassano that is now handling 'an average of 2 000 trucks a month'.

The service had 'succeeded in securing the loyalty of hauliers, who are prepared to invest in vehicles specially designed for shipment on low-loader wagons', but 'further action' was needed to improve load factors on the Perpignan – Bettembourg Lorry Rail service launched in September 2007. Loadings on this route had doubled between spring and autumn 2008 to reach 'about 50%', and Bussereau said the target was 'to boost this to 70% by the end of the year'. He also announced that 'we shall be forging ahead with work enabling us to launch a new service in 2011 between the Paris region, Aquitaine and, later, Spain.'

Bussereau also said that his government 'is keen to innovate as regards local freight operators' and had decided 'to partner regional initiatives on the understanding that local operators should emerge from local initiatives to meet local needs in terms of last-mile distribution'. Finally, he called for the introduction of trains up to 1 000 m or 1 500 m long, noting that experiments are in progress between Paris and Marseille to demonstrate that infrastructure and traction was capable of handling longer trains.