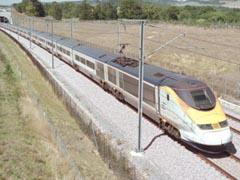 EUROPE: Eurostar's share of the rail+air market from London to Paris, Brussels and Lille is now nearly 85%, Commercial Director Nick Mercer told a Railway Forum seminar in London on October 15, and even on routes with 4 h journey times other Railteam members 'take more than 50% market share'.
However, when a connecting service is required to reach a destination 'the market share falls by almost a quantum of 10, even if the journey time is quite attractive'. In Eurostar's case, market share drops from 85% to just 4% when the destination is Köln or Rotterdam.
Mercer said the reason why high-speed operators had established the Railteam alliance 'was because we realised that unless we worked together, and made things easier for people to connect and treated it as a network, we would always be living with incredibly low market shares' where there was no direct service.
A survey commissioned by Railteam carried out 2 600 interviews in seven countries, looking at why people were travelling by air 'and what sort of things would make them change', Mercer explained.
'When you look at why people fly, both the top reasons are completely functional: journey time and cost. Qualitative things like enjoying the journey experience don't appear on the list'. Compared to air, 'trains are actually the reverse way round - things like being able to work on trains'.
'The qualitative research we did surprised us', Mercer said. 'We thought it was going to say "the thing you must do is have low prices" '. But the answers showed that 'it is all to do with reassurance and help on connections, making connections fast so you don't wait as long'. On price, passengers want 'your best fares', not 'cheap fares'.
'There is still a massive amount to do', he warned. 'We have really only just skimmed the surface as yet. The biggest challenge, and it is the one that we are finding so difficult, is the lack of standardisation, particularly when you're using technology that will sell fares and provide information'.