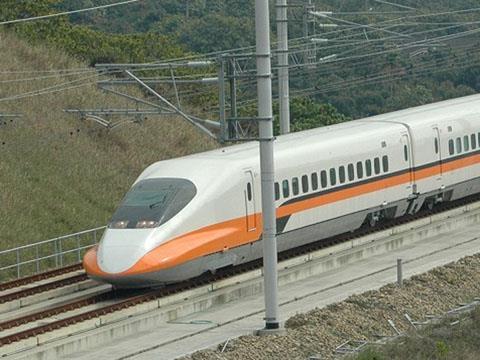 TAIWAN: Chief Executive of Taiwan High Speed Rail Corp Dr Ou Chin-Der announced on October 2 that the operator would be introducing two new off-peak ticket types with effect from November 1, expanding the range of fares available on the 345 km high speed line between Taipei and Kaohsiung. The scheme is being marketed as HSR Dual-Colour Fares, as the Off-peak and Super Off-Peak services will be colour-coded blue and orange in the THSRC timetables.
The move follows the introduction of discounted tickets for non-reserved seating in November 2008, which offer a 7% reduction on the usual reserved seat fares. This has led to overcrowding in the unreserved sections of the most popular trains, and THSRC hopes that the introduction of discounted tickets for standard class reserved seats will help to spread the demand as well as attracting further riders.
According to Ou, 'careful analyses have been undertaken of the long-term data on ridership for each train' allowing the operator to identify lightly-loaded services. Blue Zone trains will be designated 'Off-Peak', with passengers enjoying a 15% discount off the regular ticket price (equivalent to 8% below the unreserved price). The least busy trains will become 'Super Off-Peak' or Orange Zone, with a 35% discount off the regular fare.
THSRC says around 60% of the 928 trains that it runs each week will fall into one of the coloured zones, with some discounted services running every day. However, the designation of services will vary from day to day to reflect the demand patterns, which see heavier loadings on Fridays and Sundays as Taipei residents return to their family homes each weekend.
Ou says 'the primary objective in launching HSR Dual-Colour Fares is to attract first time users and broaden our customer base. The secondary objective is to maintain our general service quality and passenger comfort, as we will be able to pull price-sensitive customers away from over-crowded trains in the free-seating non-reserved seats to our standard reserved seats in less busy trains. Through the launch of these new ticket types, I hope that we can serve the public better especially during this period of economic downturn and at the same time stimulate domestic spending power.