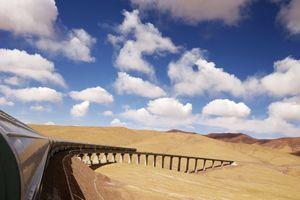 CHINA: HSH Nordbank has completed a deal with RailPartners to finance the Tangula luxury trains which will run from Beijing to Yunnan and Lhasa from September (RG 8.07 p492). The bank is providing US$30m of the US$95m project financing, with RailPartners shareholders including TZG Holdings of Shanghai and Hong Kong firms PYI and Wing On Travel providing US$45m of the US$140m cost.
Kempinski Hotels will provide onboard services and marketing.
Interfleet Technology is providing project support for the construction of the trains, with four staff currently based at the Qingdao plant of Bombardier Sifang Power.
There will be three trainsets each comprising 12 sleeping cars, two kitchen/dining cars and a lounge car, plus four spare cars. An enhancement of the fleet built for conventional services to Lhasa, the trains will have larger windows and en-suite showers and toilets. The first of the 49 cars will begin tests shortly, and deliveries will be completed in July.