Tangula Railtours has placed contracts for three five-star cruise trains offering luxury travel over the world's highest railway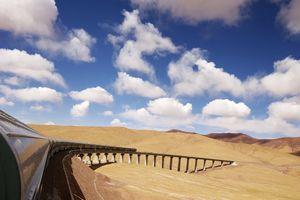 BOOKING opens in September for travel on the first luxury cruise train to Tibet. Starting in 2008, Tangula Railtours will run regular trips from Beijing to Lhasa, traversing the world's highest railway through the spectacular scenery of Tibet. Another train will run from Beijing to Dali in Yunnan province. When the line from Dali to Lijiang opens late in 2008, the company will extend its service to Lijiang.
The story begins in 2002 when several staff left McKinsey & Co to set up a company seeking opportunities in China's leisure and hospitality industry. They quickly identified a gap in the market for luxury travel to interesting tourist sites some distance from the main cities of Beijing, Shanghai and Xi'an which already had hotels of the necessary quality. The result was RailPartners Inc, which was set up specifically to develop a project for luxury train travel in China.
After long discussions with the Ministry of Railways, an outline agreement was struck in December 2005 for the creation of Tangula Railtours, a co-operative joint venture owned 49% by RailPartners and 51% by Qinghai Tibet Rail Corp. The organisation gained strong financial backing on May 26 2007 when Wing On Travel (Holdings) Ltd of Hong Kong announced its intention to acquire 72% of the share capital of Tangula Group Ltd, the 100% owner of RailPartners Inc.
The first few months of 2006 saw a detailed examination of the train paths available across the Chinese network, parts of which are seriously congested. Agreement was eventually reached to operate three trains over a northern route between Beijing and Lhasa (4 064 km) and a southern route between Beijing, Dali and Lijiang (3 916 km). The two routes share a common section over the first 689 km to Zhengzhou.
Each trip from Beijing will take five days and four nights, which is about twice as long as the ordinary trains run by Chinese Railways. The extra time will be used to give passengers the opportunity to sleep while the train is stationary and to ensure that they do not miss some of the best landscapes. Timings will also allow for off-train excursions catering for a variety of interests. The journeys from Lijiang and Lhasa to Beijing will take four days and three nights.
All on-board hospitality services, activities and off-train tours will be provided by Kempinski Hotels which has, over 15 years, become established as a major operator of luxury hotels in China. The company will also handle sales and distribution – prices will be comparable to luxury train operations in other countries.
The trains will be based at Beijing West maintenance depot where spare vehicles will be kept. There will be three departures every eight days. In summer there will be two trips to Lhasa and one to Lijiang. In the winter there will be one departure for Lhasa and two for Lijiang. The diagrams provide for about 18 h between the seven-day round trips to allow for maintenance to the highest standards.
Tangula Railtours expects three types of traveller: those who purchase the trip only, those who buy it as part of a package including hotels and air travel, and those who include the journey as part of a complete tour of China. Clients are expected to come primarily from regions where the concept of luxury train travel is already well established – North America, Europe, Australia and Japan. As knowledge and understanding of the product grows, Tangula Railtours anticipates more travellers from Hong Kong, Singapore, Taiwan and China.
The trains
CR began revenue service from Beijing to Lhasa in July 2006 using a fleet of 308 coaches built specially for operation at high altitude (RG 3.06 p155). There are now four daily pairs of trains to Lhasa, including through services on alternate days from Shanghai and Guangzhou.
Sifang Locomotive & Rolling Stock Co Ltd, a member of China South Locomotive & Rolling Stock Industry Corp, manufactured 133 cars and Bombardier Sifang Power (Qingdao) Transportation Ltd built 175 cars to a slightly different design. Further orders were placed in October 2006 for eight vehicles from Sifang and nine vehicles from BSP. All these have now been delivered.
The main contract provided for a fleet of 53 further vehicles to a luxury design. Four were to be generator cars to provide hotel power, but these will now be provided from the QTRC pool of generator vehicles which are necessary on non-electrified lines.
On April 30 2007 a contract worth 653m yuan was signed with BSP for construction of the 49 cars, and work began in June after Tangula issued a notice to proceed. The first car will be delivered in June 2008, with the entire contract completed about two months later.
In technical terms, the 160 km/h luxury fleet is the same as the previous BSP cars, with which they will share many common parts and systems – such as the oxygen-enriched air supply for the trip from Golmud to Lhasa where much of the alignment lies more than 4?000?m above sea level. Differences include larger windows, altered side skirts and a more comprehensive on-board IT system. The interiors, however, bear no resemblance to the earlier cars.
Four types of vehicle are being built. There are 38 suite cars with four individual suites of about 10 m² with double or twin beds, facilities including television, a wardrobe, a safe and refrigerated drinks cabinet, as well as a private toilet and shower. At one end of each coach will be bunk sleeping accommodation for three staff. Half of these cars will have a parlour for butler service to the suites and the other 19 will provide shower and toilet facilities for the staff.
Seven kitchen-dining cars will provide a dining and lounge space for up to 24 passengers and incorporate two small private cabins for the Train Manager and another senior member of the on-train staff. A shower cubicle will be available between the two compartments and a staff toilet will be located at the end of the car.
The fourth type of car is the scenic car, one of which will be marshalled in the middle of the train between the two kitchen-diners. Each scenic car has a variety of fixed and movable chairs arranged around fixed or drop-down tables. This layout offers a flexible space for a variety of activities and room to seat 48 passengers at meal times. A bar service will be available throughout these three common cars.
The fleet will be formed into three trains of 15 cars offering accommodation for 96 people. Six suite cars will be followed by a kitchen-dining car, the scenic car, a second kitchen-diner, and six more suite cars. There is one spare vehicle of each type.
CR is contracted to provide traction, with a single electric locomotive or two diesel locomotives, as with the ordinary trains to Lhasa.
Initial design work on the vehicles was carried out by SURV of Shanghai and Labbé Designers & Associates of Montréal. Later development was in the hands of Elskop·Scholz and Tillett Lighting Design Inc of New York. RailPartners obtained the services of Pertlink of Hong Kong for IT advice and have appointed Interfleet Technology of Derby in the UK to supervise the design, construction and commissioning of the trains for RailPartners.
The name Tangula is inspired by Thang Lha, a powerful grassland deity who watches over and protects the Tangula Pass and the Tangula mountain range. The line to Lhasa runs through the Tangula Pass, reaching an altitude of 5 072 m above sea level. Further details can be found on www.tangula.com.cn
CAPTION: Tangula Express passengers will cross this spectacular 938 m long triple-bowstring bridge across the Lhasa River at the end or start of their journey
CAPTION: CR traction on the Golmud – Lhasa line consists of Class NJ2 Co-Co diesels built by General Electric
CAPTION: The main building at Lhasa station is loosely modelled on the legendary Potala Palace. There are seven platforms
CAPTION: The suite car has four spacious compartments, each with private facilities. Interior design will feature contemporary design with Chinese elements