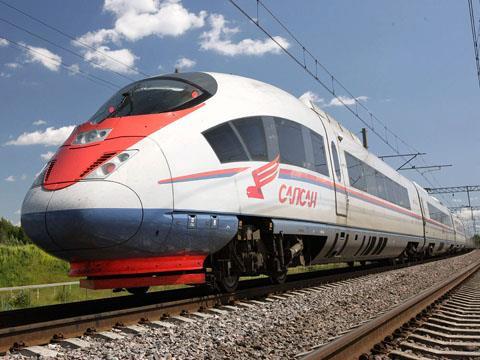 RUSSIA: Russian Railways announced on November 20 it had begun selling tickets for Sapsan services between Moscow and St Petersburg which will start on December 18.
There will initially be three trains each way, with simultaneous departures from each city at 06.45, 13.00 and 19.00 and a best journey time of 3 h 45 min, down from the current 4 h 30 min.
According to RZD the average time for a Moscow - St Petersburg journey by air is not less than 5 h, taking into account travelling to and from the airport, checking in and flying.
The basic prices for Sapsan are US$185 in first class and US$115 for second class, although discounted introductory tickets will be offered from December 18 to 25.
First class includes a choice of hot food, reading materials, internet access, children's packs and travel packs containing ear plugs, eye masks and slippers. Passengers in second class can order food from the bistro, and use the internet, order taxis, and access onboard entertainment.
Siemens Mobility is supplying eight Velaro RUS trainsets under a €276m contract signed in May 2006. Now branded Sapsan (peregrine falcon) by RZD, they have two first and eight second class cars and are capable of running at 250 km/h. In April 2007 the manufacturer was awarded a 30-year maintenance agreement worth €354·1m.