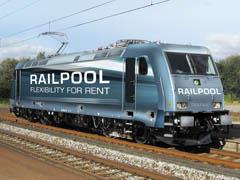 EUROPE: The Railpool leasing joint venture of HSH Nordbank and KfW IPEX-Bank is aiming to expand its presence in eastern Europe, according to Account Director Torsten Lehnert, who was speaking during the Nordic Rail 2009 event.
'Our focus is to go east, perhaps into Hungary or Romania', said Lehnert. 'We are looking to partner with companies who are expanding east at the same time.' Although he acknowledged that the financial crisis had impacted on the short-term expansion of the business, he expected the company to continue growing, thanks to both its parent banks having strong state backing.
'We are looking at a 50/50 expansion between freight locomotives and passenger multiple-units, we think the passenger market has similar needs for flexible leasing options.'
Railpool is planning to invest in a fleet of diesel locomotives, but which product it will purchase is still being evaluated. 'It is not as simple as purchasing electric locomotives.'
The provision of spares is also an increasingly important part of Railpool's strategy - it has bought eight spare Traxx bogies from Bombardier, for example. 'We are convinced our customers will need them, and we may rent out spare bogies to share the cost. If you have spares among your assets, you have an advantage', Lehnert explained.