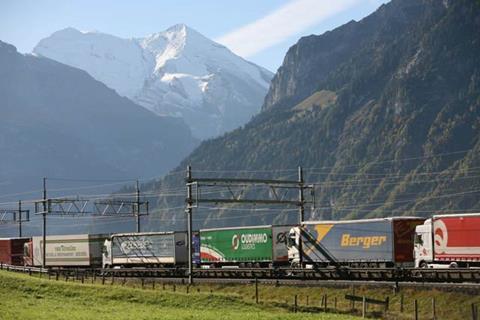 SWITZERLAND: Despite the general slump in rail freight and trans-Alpine transit traffic, the international rolling motorway service between Freiburg im Breisgau in southern Germany and Novara in northern Italy is continuing to attract more business, according to René Dancet, Chairman of RAlpin AG.
Presenting on October 7 the results for the BLS-Hupac-SBB-Trenitalia joint venture operator in the nine months to the end of September, he said that the service had moved 8% more traffic than the same period in 2008. This was equivalent to taking more than 5 000 loaded lorries off the road. Whereas growth in the first six months had been partly driven by external factors including strikes, Dancet said the last three months' improvement was all 'home-grown', despite the fact that services had to be suspended for a week in August because of infrastructure works between Domodossola and Novara.
In July, RAlpin set a new monthly record of 9 265 lorries, the highest figure since the service was launched in 2001. According to Dancet, one of the factors helping to drive growth was the introduction of a more intensive service earlier this year. With each train having capacity for more than 20 lorries, and an average load factor of 84%, the operator had added six more departures each way per week.
Dancet also confirmed that RAlpin had submitted a formal bid at the end of September to the Swiss Ministry of Transport, which is currently tendering the concession to operate north-south trans-Alpine rolling motorway services during 2012-18.