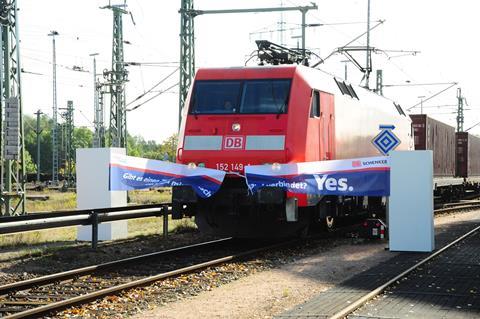 GERMANY: Welcoming the arrival in Hamburg of a container train from China on October 6, DB Chairman Harmut Mehdorn confirmed that DB Schenker planned to launch a regular scheduled service following the Chinese new year in February 2009. Operating under the Trans-Eurasia Express branding, the dedicated container trains will initially operate twice a week in each direction, with a target journey time of 20 days. The latest test run, carrying products for Fujitsu Siemens Computers arrived took 17 days for the 10 000 km journey from Xiangtang to the north-German port.
'Our endurance in pursuing this project is now paying off', said Mehdorn. 'Thanks to our co-operation with five other railways, including the Chinese and Russian railways, we are now able to open up an attractive and reliable new trade route for our customers between the markets in China and Central Europe. We are thus offering an attractive supplement to slower ocean freight and significantly more expensive air freight.
Speaking in Hamburg, the DB ML Board Member for Transport & Logistics Dr Norbert Bensel said that DB Schenker was strengthening its technology leadership at international level. 'With the introduction of the regular timetable and fixed departure times, this new link in our global network will enable us to offer a new level of quality in the trans-continental exchange of goods', he explained.
Operating across the Eurasian landbridge, the container trains will initially link Shanghai and Beijing with Hamburg, Nürnberg and Duisburg. Space on the trains will be marketed by DB Schenker's existing national business units. Bensel said that 'companies in the automotive industry, the chemical industry, manufacturers of household goods, and from the engineering and paper industries' had already expressed interest in using the service.
The Trans-Eurasia Express was dispatched from China in mid-September and routed via the Trans-Mongolian and Trans-Siberian routes. Photos: DB AG