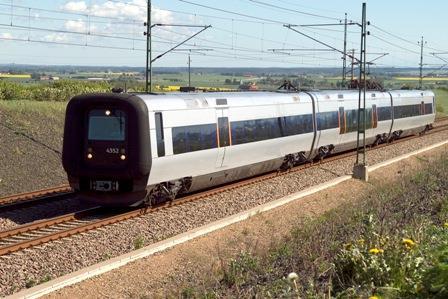 SWEDEN: Rolling stock leasing company AB Transitio announced on December 23 that it had ordered a further 11 three-car Contessa EMUs from Bombardier Transportation at a cost of €96m, with an option for a further five. To be leased by three regional authorities, Lanstrafiken Kronoberg, Kalmar Lans Trafik and Hallandstrafiken, the trains are intended to provide additional capacity to accommodate growing demand in the Øresund region.
Contessa EMUs already form the bulk of the fleet working local services between southern Sweden and Denmark. The units are designated Class X31 in Sweden and ET in Denmark. The deal brings the total number of units ordered to 111, of which 90 are already in service, and 10 on order for DSB. AB Transitio currently owns eight sets, which are leased to the DSB First joint venture for Øresundståg services.
With a maximum speed of 180 km/h, the three-car sets are equipped to run on both 15 kV 16 2/3 Hz in Sweden and 25 kV 50 Hz in Denmark. They are also fitted with both countries' signalling systems. The centre car of each unit has a low-floor section with entrances providing level boarding for mobility-impaired passengers.
The latest batch will be assembled at Bombardier's Hennigsdorf and Görlitz plants in Germany, with traction equipment from Västerås and bogies from Siegen.