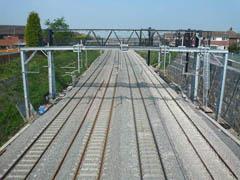 COSTA RICA: At a meeting in San José on October 7 Transport and Public Works Minister Karla González launched the government's draft TREM rail concession which is to be tendered by the end of the month.

Bids for the right to operate three routes connecting San José to Heredia province, San Pedro and Sabana Sur are due for submission in February or March 2010. The winner will be responsible for construction, operation and maintenance of the commuter services for 35 years.

The project involves the construction of double track railway line and the supply of around 18 four-car trains capable of transporting 340 passengers each. Prefeasibility studies carried out by Brazilian firm Engevix estimate the total cost at US$345m. The state will provide US$100m towards the reconstruction of the line from Heredia and Montes de Oca and Sabana Sur; the remainder will be financed by the successful bidder.

The initial 10 km section connecting Hospital de Heredia with Ferrocarril al Atlántico station in San José is expected to start operation in 2013, assuming concession award by mid-2010. The journey will take 18 min with stops at 9 stations, an improvement on the current diesel train service which takes 30 min and has only five stops. Phases 2 and 3 linking Atlántico — San Pedro de Montes de Oca and Atlántico — Ferrocarril al Pacífico station — Sabana Sur will follow a year later.

Eleven international companies are believed to be interested in the project, including Alstom, CAF, Siemens, Bombardier and a South Korean consortium of Daebon Engineering and Hyundai Rotem.