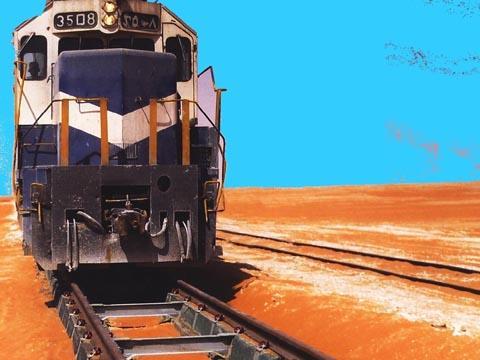 SAUDI ARABIA: Saudi Railways Organisation has installed a 900 m section of Tubular Track on its main line between Harad and Al Tawdihiyah. The line carries containerised freight between the Gulf port of Dammam and Riyadh, but sand is a perennial problem and teams are on permanent standby to clear the line after sandstorms.
The Tubular Modular Track was designed and developed in South Africa, and offers a significant advantage in desert conditions as there is no ballast that can be fouled. Twin reinforced concrete beams provide continuous support for the rails, with resilience provided by rubber bonded cork pads.
Installation was carried out by the T-Track Saudi Arabia joint venture of Pretoria-based Tubular Track and Consolidated Mining Co. Moulds and TMT components were manufactured in South Africa and shipped to Damman, where a factory was set up to produce the concrete modules.
TMT has been used at a number of suburban stations in South Africa, and on the line across the Namibian desert between Aus and Lüderitz.