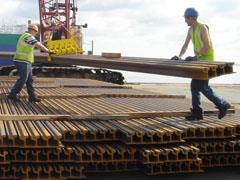 RUSSIA: Russian mining and metals company Mechel has awarded Chinese state-owned firm Minmetals a US$300m turnkey contract for the construction of a rail and structural steel mill at Chelyabinsk.
Minmetals will construct the workshop, and install and commission equipment to be provided by Italian firm Danieli. Completion is planned for late 2010.
The mill will produce rails up to 100 m long and tailored to suit Russian conditions under a long-term partnership agreement with RZD, which signed a contract in February for the delivery of 400 000 tonnes of rail a year in 2010-30.
'China has been successful in constructing rail and structural steel mills worldwide', said Mechel CEO Vladimir Polin. 'This contract to construct the rail and structural steel mill is the largest Russian and Chinese agreement in metallurgy history.'