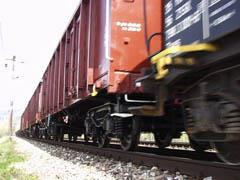 EUROPE: The IT Study Group at the International Union of Railways' Freight Forum has decided to adopt the standards being developed for rail freight applications by the Open Telematics Alliance, which will form the basis of a new UIC leaflet on recommended practice.
Meeting in Paris on October 13, the study group agreed to establish a new project, designated SITA (Standardised Interface for Telematic Application), which will take over the open telematics interfaces (opti) developed by the alliance.
Due to be made available in the fourth quarter of 2010, the UIC leaflet will provide a technical specification for a standardised interface for railway freight wagon telematics applications and define the mechanism for information exchange over a Cellular Network between Mobile Unit and Communication Server. The information exchanged will define the behaviour of the mobile unit and/or inform the server about the status of and events affecting the mobile unit.
The leaflet will therefore specify the structure of the information that has to be exchanged and the dependant architecture. According to study group president Rainer Wilke, 'the objectives of these international previsions are to promote interoperability, improve operating conditions and enhance the quality of service in international rail freight traffic.'
While UIC leaflets have no legal status, their adoption by UIC member railways can be either obligatory or recommended. They are usually drawn up through international co -operation, and often in collaboration with industry experts and standardisation organisations. Many of the measures have been integrated into national or European norms, or into tender invitations, giving their recommendations additional weight.
Rieckenberg telematics article RG 5.08 Baranek OPTI article, RG 11.08 Pic in Dec news graphics: tn_de-telematics-NavMaster