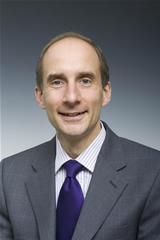 UK: Minister of State for Transport Lord Andrew Adonis will make the opening address at the Growth & the Capacity Challenge conference in London on March 10. The minister will present a keynote speech at the first session of the conference after opening the Railtex 2009 exhibition at Earl's Court.
The minister is expected to outline how government thinking on rail investment has evolved since the 2007 white paper Delivering a Sustainable Railway, with discussion of further main line electrification and the construction of new lines on key routes.
Taking place in London on March 10-11, Growth & the Capacity Challenge is being organised by Railway Gazette International and Rail Business Intelligence in conjunction with Railtex 2009.
With long-term forecasts envisaging a doubling in demand for rail transport over the next 15 to 20 years, accommodating extra traffic on busy routes will require innovative approaches from train operators, infrastructure managers, suppliers and authorities alike. Growth & the Capacity Challenge will bring together leading speakers from the UK and Europe to look at four main areas:
A holistic approach to optimising investment in track, trains and timetabling.
Smarter operating – squeezing more capacity from existing lines.
Tackling the bottlenecks – cost-effective projects which offer the biggest benefits.
Building for growth – where do we need more infrastructure, and to what standards?
Other confirmed speakers include:
Michael Robson, Secretary-General, EIM
Michael Beswick, Director of Economic Regulation, ORR
Bert Klerk, Chairman & CEO, ProRail
Neil Henry, Head of Operational Planning & Performance, Network Rail
Katarina Norén, Director of Planning & Strategy, Banverket
Adrian Shooter, Chairman, Chiltern Railways
Hansruedi Kaeser, Freight Corridor Manager, SBB Infrastructure
Don't miss this unique event – book your place now.
Gold Sponsor: Bentley Systems
Silver Sponsor: Bombardier Transportation
Supported by: European Rail Infrastructure Managers (EIM)