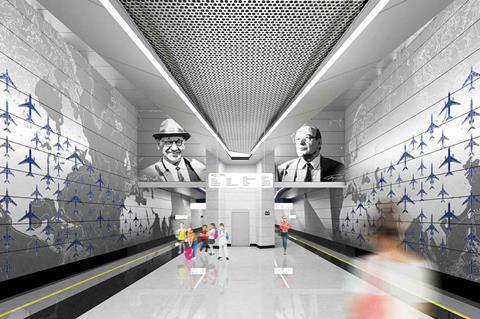 Moscow Metro has released images showing the design of the future Vnukovo airport station, which will be the terminus of a 5·2 km two-station extension of the Kalininsko-Solntsevskaya Line, scheduled to open in 2022. Echoing the design of Terminal A, the styling is dedicated to civil aviation and to the history of the Tupolev aircraft design bureau, with portraits of Andrei and Aleksey Tupolev.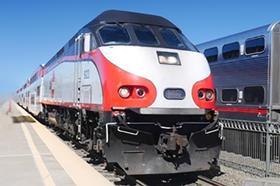 The Caltrain board has voted to close Atherton station. Weekday services ended in 2005 owing to low demand, and prior to the coronavirus pandemic the limited weekend-only service every 90 min was used by an average of 114 passengers per day. Caltrain said the station needed $30m of investment to bring it to modern standards, while closure would improve reliability and flexibility and reduce travel times in the area by up to 3 min.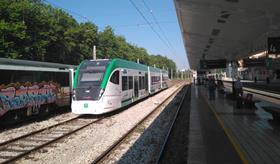 Following a long approvals process which initially got underway back in 2009, Spanish safety authority ASESF has authorised the use of the seven Cádiz tram-train vehicles, which will be the first to run on a conventional urban tramway line as well as a 1 668 mm gauge mixed traffic main line. No date has been announced for the start of passenger services.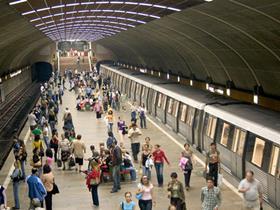 București metro operator Metrorex has signed a financing agreement with transport ministry for the construction of a sixth metro line. The 14·2 km line with 12 stations will link 1 Mai station with Henri Coanda International Airport, sharing an additional 3·6 km of route with the existing Line M4 from Gara de Nord to 1 Mai station. The EU Cohesion Fund is to provide 2·4bn leu of the 6·3bn leu project cost, with construction expected to be completed by November 15 2026.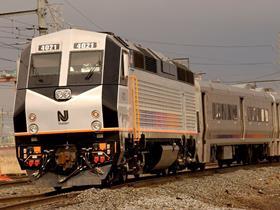 NJ Transit has deployed Extreme Networks communications technology to extend connectivity, simplify network management and enhance passenger security.
A groundbreaking ceremony was held on November 11 for a 6·8 km northern extension of Incheon metro Line 1 from Gyeyang to Gyeyangcheon, Bullo and Geomdan. Opening is planned for 2025.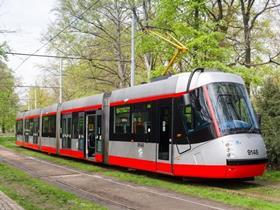 On November 4 Praha transport operator DPP obtained a legal permit for construction of the first stage of a tram line to Slivenec, involving 1 km of double track between Barrandov and Holyně in the southwest of the capital. Tenders have been called with an estimated value of KC277m, to be co-financed by the EU, and opening is planned for the end of 2021.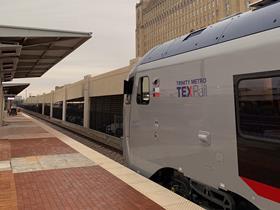 Trinity Metro has appointed AECOM to conduct the environmental assessment and preliminary engineering for the TEXRail commuter railway extension 3·4 km south from Fort Worth T&P station to Mistletoe Boulevard station, serving the Fort Worth Medical District. 'This expansion is intended to improve transit equity by providing access to healthcare services for local residents who may not have a vehicle and will ease the commute for healthcare workers traveling in and out of the district', said Dev Rastogi, AECOM Vice-President & Dallas executive.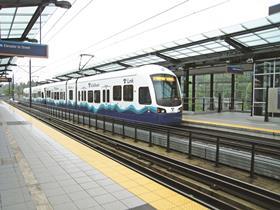 Mobilitie is to supply wireless networking infrastructure including more than 250 antennas for the 10 km extension of Seattle's Sound Transit light rail network to Northgate which is scheduled to open in 2021. 'We're excited to bring 5G to the rails in Seattle's booming tech community', said Alan Goree, Director of Wireless Solutions. 'Whether it's downloading files for that big meeting on the ride into work, or unwinding and streaming your favourite show on the way home, we're enabling Sound Transit riders to make the most of their commutes with greater connectivity.'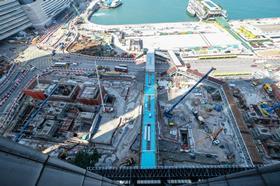 On November 12 Hong Kong's MTR Corp held a topping-out ceremony for the three-level Exhibition Centre station on the East Rail Line extension across Victoria Harbour to Admiralty. Installation of the railway systems and architectural finishes is already under way.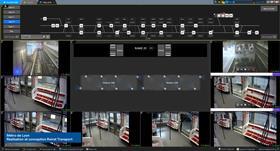 Lyon transport authority Sytral has deployed Genetec's Security Center platform to manage 1 900 CCTV cameras at 42 metro stations, as well as 576 cameras onboard 36 two-car Line D driverless trains. This provides a live stream enabling security teams to respond immediately to any issue and which can be shared with the police. Trains on lines B and C are to follow. 'We started with Line D because it is currently the only automated line, requiring more visibility to ensure the safety of travellers', said Jean-Baptiste Badet, Sytral's manager for Electrical & Passenger Equipment. 'The 12 interior cameras allow a better analysis of the situation when a user calls from a train; and four external cameras can remove doubts when an alarm goes off, indicating the likely presence of an obstacle on the tracks.'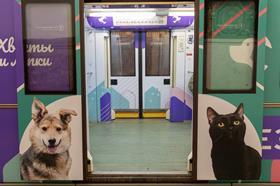 Moscow Metro has branded a train with 73 images of dogs and cats to support the 'Tails and Paws' project to rehouse pets at animal shelters. Passengers can use a QR code to see a particular animal's profile. A third of the highlighted animals were homed in the first week, and labelled with 'Already at Home' stickers.