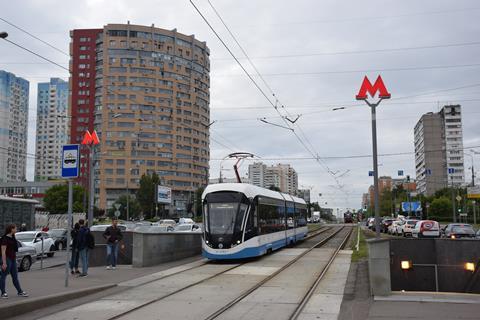 Moscow city council has allocated 2·4bn roubles in its 2023 budget to cover major enhancements to tram and light rail infrastructure. The work is to be managed by Moscow Metro and will focus on track renewals and rehabilitation and the procurement of up to 154 items of maintenance equipment, vehicles, and plant. There will be a package of works to segregate tram tracks from road traffic and to automate 30 junctions where points are still manually operated by drivers. According to Maksim Liksutov, Deputy Mayor for Transport, the programme is expected to generate up to a 30% increase in network throughput by the end of next year.
Work has begun in Magdeburg on the fourth construction phase of the second north-south tram connection, with trams to be separated from other traffic over 600 m of line. The 3·5 km section is scheduled to go into operation in 2026.
A consortium of TSO, Guintoli, Alstom, Spie Batignolles, Malet and Agilis have been awarded a contract for civil works on light rail Line 5 in Montpellier. The contractors will build 5 km of double-track tramway in the north of the city from Saint-Eloi to Clapiers; work will start in early 2023 and last 38 months.
Den Haag operator HTM has named Stadler as preferred bidder for the supply of 50 fully-accessible low-floor trams to replace its GTL8 fleet from 2026. HTM said it had received three firm offers for the supply contract, and the two other bidders had 20 days from October 28 to object under the regulatory standstill period.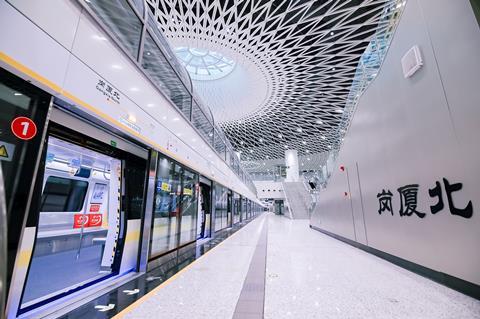 Shenzhen's express Line 14 opened on October 28. Built as part of phase four of the city's metro expansion programme, Line 14 runs for 50 km and is fully underground, serving 18 stations in the Futian, Luohu, Longgang and Pingshan districts of the city. The end to end journey time between the termini at Gangxia Bei and Shatian is 55 min. Line 14 was primarily built to relieve congestion on the parallel Line 3; construction started in January 2018. The line is fully automated to GoA4 and is operated by 120 km/h Type A trainsets supplied by CRRC Changchun. On the same date, the city also opened a 1·2 km extension of Line 11 from Futian to Gangxia Bei.