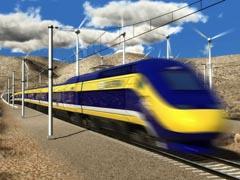 USA: The American Public Transportation Association has launched a Center for High-Speed Rail, aiming to 'advance and promote high-speed rail in the United States.' Announced on January 8, this will build on the work of APTA's existing High-Speed & Intercity Rail and Legislative committees.
'With the impending announcement by the Obama administration on the distribution of the first federal high speed rail funds, the establishment now of the Center for High-Speed Rail will bring together the expertise of its members and APTA's education and advocacy resources to realise the vision of high-speed rail in the United States', said APTA President William Millar.
In 2006 the High-Speed Ground Transportation Association advocacy group merged with APTA, which has represented the North American public transport industry since 1882.
APTA said it is also working with other industry groups to support high-speed rail, including the American Association of State Highway & Transportation Officials, the States for Passenger Rail Coalition and the International Union of Railways.
APTA and UIC are hosting three high-speed rail seminars in Washington DC on February 8-9, Chicago on February 9-11 and Los Angeles on February 11-13.