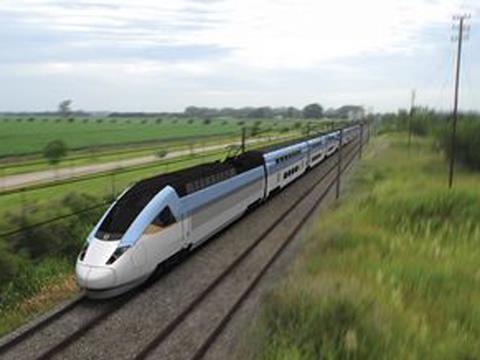 ARGENTINA: On April 29 President Cristina Fernández de Kirchner formally signed a turnkey contract with the Veloxia consortium for the construction of a 320 km/h line between Buenos Aires, Rosario and Córdoba. The consortium had been selected for the concession on January 16, having submitted the sole bid in an international tendering competition.
The project will be financed by the French bank Natixis, and the contract will take effect once financial close for the funding package has been reached; this is expected in the next few months. Construction of the 710 km route with seven stations is to be split into two sections, covering a double-track line from Buenos Aires to Rosario and a single-track section from there to Córdoba. Work is expected to take around four years.
The Alstom-led consortium also includes Iecsa, Isolux Corsan and Emepa. Alstom will be responsible for engineering and management of the turnkey project, plus the rolling stock, ETCS Level 2 signalling, telecommunications and part of the track work. Iecsa will be responsible for the civil engineering, along with Isolux Corsan, which will supply the electrification. Emepa will participate in the track works, along with Alstom and Iecsa.
The line will cut the journey time between Buenos Aires and Córdoba from 14 h to 3 h. Alstom is to supply a fleet of eight Cobra double-deck trainsets with a capacity of 509 passengers each. These are to be assembled at the company's plant in La Plata, and at Rio Tercero in the province of Córdoba. According to Alstom Chairman & CEO Patrick Kron, who attended the signing ceremony, the company's share of the deal is worth around €1·1bn.
Describing the Buenos Aires - Rosario - Córdoba line as ' the largest very high speed rail project outside Europe since the KTX in Korea', Kron said it represented 'an essential component in the revival of railways in Argentina, which will have a major impact on the economic development of the region.