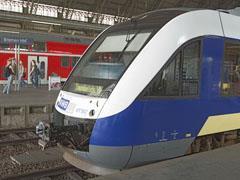 GERMANY: The NordWestBahn subsidiary of Veolia Transport has been selected to manage the future Regio-S-Bahn services in Bremen and Niedersachsen from December 2010.
Niedersachsen transport authority LNVG confirmed Veolia as the winner after Deutsche Bahn withdrew an appeal against conditions in the call for tenders. Veolia said it is the first time a private operator has won a contract covering the whole of an electrified S-Bahn in Germany.
The 11-year concession agreement covers the operation of 4·7 million train-km a year on a four-line network totalling 270 km. Veolia expects to generate total revenue of €500m.
New air-conditioned vehicles with low floors, wheelchairs spaces and accessible toilets will be brought into use for the launch of regular interval S-Bahn services in 2010. Trains will have onboard security staff after 21.00, and CCTV will be fitted.
The contract follows agreements reached this year covering regional services in Niers-Rhein-Emscher and Leipzig. '2008 marks a new stage in our expansion in rail in Germany,' said Cyrille du Peloux, CEO of Veolia Transport. 'This expertise will be of great strategic importance once the European market for passenger rail transportation is deregulated in 2010.'
Regio-S-Bahn Bremen/Niedersachsen routes
Bremerhaven-Lehe - Bremen - Twistringen
Bremen - Oldenburg - Bad Zwischenahn
Bremen - Nordenham
Bremen-Farge - Verden