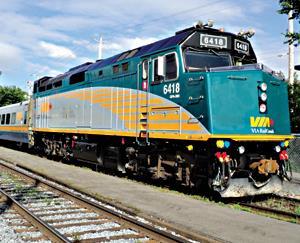 CANADA: National passenger operator VIA Rail has appointed BMT Fleet Technology to develop a condition-based maintenance pilot programme and review its current maintenance strategies. VIA Rail hopes the results will help improve fleet performance and availability while reducing costs.
The condition-based maintenance project runs to October and is focusing on the GPA-30H locomotives. It will review existing capabilities and procedures, and suggest improved techniques to optimise maintenance.
The maintenance review will consider the GPA-30H locomotives as well as the LRC and Renaissance coaches, recommending an optimised strategy to encourage continuous improvement through well-defined best practice. Completion is planned for April 2013.