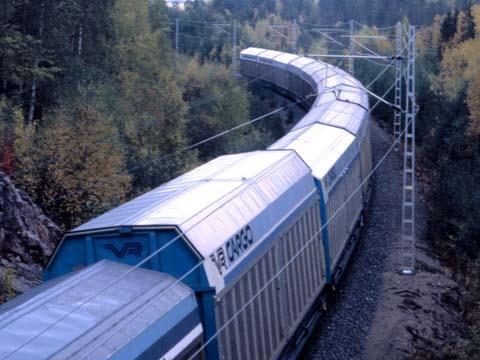 FINLAND: National railway operating company VR Group announced a major corporate restructuring on August 20, as a response to the economic recession and 'sudden and partially permanent changes' in the markets it serves, particularly in the forest products sector. Freight traffic in the first six months of 2009 was 30% down on the same period in 2008.
VR Group will be reorganised into five divisions: Passenger Services, Logistics, Corporate Services, infrastructure maintenance business VR-Rata and Russia & International Business. These will take effect from January 1 2010 at the latest, but the senior management changes have been put in place immediately.
A reform programme lasting two to three years will be implemented with the aim of achieving a €100m increase in annual profitability through cost savings and the growth of new business.
The initial focus will be on improving the efficiency of VR's freight operations. The Logistics division will in future comprise VR Cargo, Transpoint Oy Ab, Transpoint Cargo Oy and Transpoint International. VR Cargo and Transpoint will continue as common carriers, and the Transpoint businesses will remain as separate companies.
The Passenger Services division will combine VR's passenger rail services with the bus operations of Pohjolan Liikenne, although they will continue to operate as separate companies. This is expected to 'improve the customer travel experience and meet different needs of passengers'.
All finance, IT and human resource services will be provided at group level.
'We need prompt actions to safeguard the whole transport system and ensure Finland's competitiveness', said President & CEO Mikael Aro. 'Therefore our aim is to develop VR Group responsibly on a long-term basis together with the employees and employee organisations. These measures aim to safeguard the future of the Group and assure growth opportunities.'