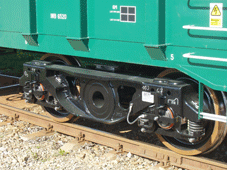 USA: On December 8 Wabtec Corp said it had completed the $300m acquisition of Standard Car Truck announced on September 15. SCT expects to report sales of $225m in 2008, and Wabtec said it expects the transaction to be accretive in the first year, although the recognition of non-cash, purchase price accounting charges will reduce that impact significantly.
Based in Park Ridge, Illinois, SCT produces locomotive and wagon components including springs, friction wedges and wear plates. It employs 550 people, with nine manufacturing plants in the USA, an R&D site in the UK and an office in Malaysia for low-cost sourcing.
The deal was financed through a $200m term loan and a $300m revolving line of credit. Wabtec now has about $120m of cash and about $385m of debt, including $150m of bonds, on its balance sheet.