EUROPE: The first Intermodes international convention and exhibition on intermodal passenger transport will take place in Brussels on February 4-5 2009. The aim of the event is to facilitate the journeys made by the 493 million people who live in the European Union.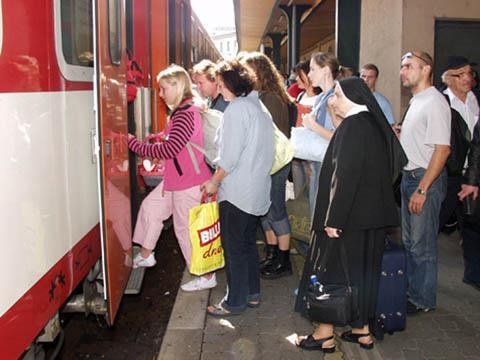 In many cases a journey is actually a chain of several shorter journeys, one after the other: car to the metro station, then a short trip on the metro before boarding a long distance train.
On arrival at the destination, the onward journey might involve the local public transport network, which entails understanding how it works. Passengers need to find the network map and work out the fares, often in a different language in the case of an international journey. From start to finish, it may be necessary to purchase several tickets.
Intermodes will facilitate discussions between European transport authorities about how transfers from one mode of transport to another can be made easier. When considering door-to-door travel, no mode of transport will be excluded from the debate; ignoring cars, bicycles or walking would mean leaving out 'the first and last mile' of any intermodal journey.
Owned by 81% of European households (Eurostat 2007), the mobile phone is one of the tools that will, sooner or later, revolutionise travel in Europe. No more paper tickets. A simple telephone call from the vicinity of a terminal before and after a journey, which could include several modes of transport, will allow everyone to travel as they wish and pay for their journeys at the end of the month. Orange, in collaboration with French telephone and transport operators, and Deutsche Bahn, with German Telecoms and transport operators, are already working on such arrangements, which should become operational in the near future.
Intermodal initiatives already exist in Europe, for example in Germany where 45% of all Lufthansa passengers transferring between Köln Bonn and Frankfurt airports use the joint Lufthansa-DB AIRail high speed train service.
In Switzerland, the Fly Rail Baggage Service allows air passengers en route to Zürich, Genève and Basel airports to check in their luggage, and get their boarding cards in numerous railway stations.
One example of a successful modern transfer point is the Avenida de América in Madrid. Renovated and reopened in 2000, this huge transfer station saw a 30% increase in the number of transit passengers during its first year of operation.
Similar examples exist elsewhere, but there is plenty of scope to develop further intermodal initiatives in Europe. Some 50 speakers from 10 different countries will share concrete examples of successful intermodality during the conference.
More details can be found on the event website: www.intermodes.com