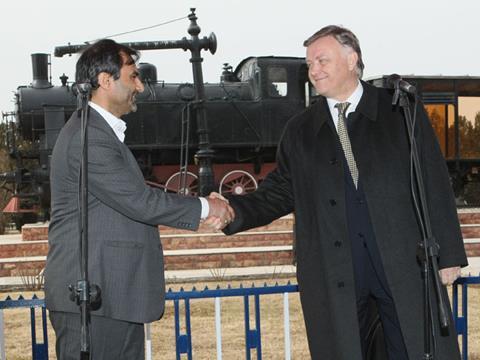 IRAN: Russian Railways President Vladimir Yakunin attended a ceremony marking the formal start of work to electrify the line from Tabriz to Azarshahr on February 9.
The 46 km line linking central Tabriz to the university town of Azarshahr is being electrified at 25 kV 50 Hz under a contract awarded to RZD in March last year. The Jolfa - Tabriz route was electrified in 1979 with the assistance of the USSR, and the current project makes provision to extend the wires as far as Tehran.
'We view this contract as the beginning of a long-term and mutually beneficial co-operation', Yakunin told guests. 'We hope that a project will begin this year to build a railway from Qazvin to Rasht and Astara' (RG 1.09 p49).
The 230 km Eghlid - Isfahan line was opened on February 2, as the first phase of the Isfahan - Shiraz project. The remaining 270 km to Shiraz is expected to open in May.