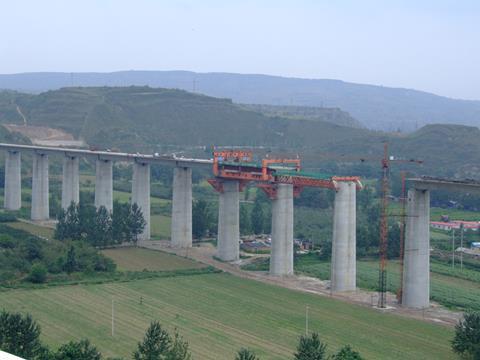 CHINA: October 7 saw the formal start of construction work on the 281 km Passenger-Dedicated Line between Beijing and Shijiazhuang. The project is expected to be completed within four years, at an estimated cost of 43·8bn yuan.
Parallelling the existing main line between the two cities, the PDL is expected to release capacity on Chinese Railways' conventional network, as well as reducing inter-city journey times. The line has been designed for 300 km/h operation, and will form the northern part of the emerging high speed corridor linking Beijing with Guangzhou, Shenzhen and Hong Kong.
Starting from Beijing West, the new line will serve intermediate stations at Zhuozhou, Gaobeidian, Baoding and Dingzhou before reaching the dedicated high speed station at Shijiazhuang South. The project also includes the construction of a 28·7 km connecting link to the Shijianzhuang – Taiyuan PDL now under construction (photo).