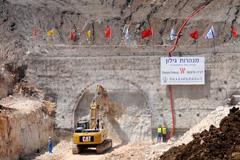 ISRAEL: On April 23 the joint venture of local construction company Danya Cebus and China Civil Engineering Construction Corp began work on a 4·6 km twin-bore tunnel that will carry the new 'Akko - Karmi'el line under Gilon mountain.
The ceremony was attended by the Chinese Ambassador to Israel Gao Yanping, as well as Mayor of Karmi'el Adi Eldar.
Work is being undertaken under a US$276m contract awarded to Danya Cebus and CCECC in 2011 by Israel National Roads Company Ltd, which is also responsible for rail projects. Transport Minister Yisrael Katz has announced that design work is due to start later this year on extending the 23 km 'Akko - Karmi'el line to Kiryat-Shmona near the border with Lebanon.