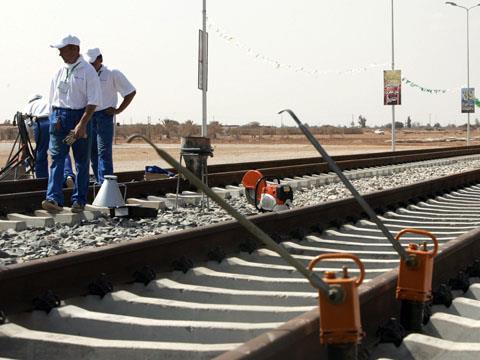 LIBYA: On August 30 Russian Railways formally began the construction of a 554 km double-track railway parallel to the Mediterranean coast between Surt and Banghazi.
The Office for the Implementation of Railway Projects signed the contract with RZD in Tripoli on April 17. Construction of the standard gauge line is expected to take four years at a cost of €2·2bn, with the work to be undertaken by Russian specialists working with local companies.
There will be four major and 24 minor stations on the route, of which two will have both passenger and freight facilities and four will be for freight only. The project includes 30 rail and 23 road bridges.
Diesel traction will be used at first, with electrification to follow in a second phase of works.
'A new chapter has opened today in the economic cooperation between Libya and Russia', said RZD President Vladimir Yakunin. 'This is the first major project in the history of the two countries in the transport sphere. Russian Railways already has sufficient experience with this kind of work, so we know we can deliver on schedule and with high quality.'
Libya has long held ambitions to construct a railway along the coast between the Tunisian and Egyptian borders. Earlier this year China Railway Construction Corp was awarded contracts worth 3·2bn dinars to construct a 352 km line between Al Khums and Surt by 2013, as well as a 800 km line from iron ore deposits at Wadi Shati near Sabha to the port of Misratah by 2012.
In 2001 the Railways Executive Board confirmed that work was underway on a line fromRas Ejder on the Tunisian border to Tripoli and Surt, but this has not been completed.