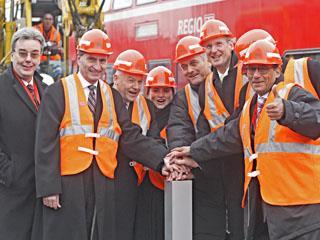 GERMANY. Federal Transport Minister Dr Peter Ramsauer and Deutsche Bahn Chairman Dr Rüdiger Grube officiated at an event on February 2 launching the huge Stuttgart 21 project.
Together with Baden-Württemburg Ministerpräsident Günther Oettinger, Mayor of Stuttgart Dr Wolfgang Schuster and Director of the Verband Region Stuttgart Jeannette Wopperer, they ceremonially dismantled a buffer stop in the existing station, marking the start of an ambitious scheme to replace the present Stuttgart Hauptbahnhof by an underground station.
The new station is to be built on the same site 12 m below ground with through platforms that will avoid the need for time-consuming reversal of long-distance ICE and other services. Most of the listed historic main building will be retained, providing access to the four platforms and eight tracks of the future station where the architecture will allow daylight to penetrate to track level. The site of the future station and approach tracks will be released for development – plans call for commercial and residential buildings with extensive office accommodation and as many as 11 000 apartments.
Stuttgart's underground station will form the gateway to the second and no less spectacular part of the project – an 84 km high speed line stretching as far as Ulm. To be built parallel to the A8 Autobahn, this will cut journey times between the two cities to just 28 min, eliminating the need for trains to climb the famous Geislinger Steige where speed typically drops to 60 or 70 km/h.
A major element in the project is the 9·5 km Filder tunnel which runs south from the Hauptbahnhof to a new station serving Stuttgart airport and the trade fair grounds. A trip from the city centre to the airport that now takes 27&nsbp;min on the S-Bahn will be cut to just 8 min.
Partly because of the cost, the Stuttgart 21 project has generated considerable controversy – and continues to do so. The price tag now stands at €6∙5bn, of which €4∙2bn is for the new main station and the approach works. However, the cost may well rise again before completion, currently expected in 2019.