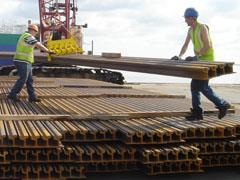 Angola: China Railway 20 Bureau Group has begun rehabilitation of 540 km of the Benguela Railway between Munhango and Luau, employing 300 Chinese technicians and 300 Angolans. The 220 km to Luena is to be completed by May.
China: MTR Corp has awarded Leighton Asia and Macmahon Holdings a US$417m contract to construct 7·6 km of tunnel plus ventilation for the Tse Uk Tsuen – Shek Yam section of Hong Kong's Express Rail Link.
Czech Republic: Skanska has ordered a Desec Tracklayer TL 70 turnout replacement machine.
Europe: Latvia's Ministry of Transport has selected Aecom to undertake a feasibility study for the proposed Rail Baltica 1435 mm gauge line from Poland to Tallinn.
France: On March 18 RFF approved the first civil works contract for the second phase of LGV Est Européenne. A consortium of Guintoli, Maia Sonnier and NGE GC won the €78·9m Contract 42, covering 17 km between Sarraltro ff and Danne-et-Quatre-Vents. Inexia and Arcadis will provide project supervision.
Germany: Alpine Bau leads a consortium which has been awarded a €300m contract to build a 3·4 km rail and 1·4 km road tunnel in Karlsruhe. The total project cost is €588m.
Hungary: The Miskolci Zöld Nyíl 2009 consortium led by Colas-Alterra is to extend the tram line in Miskolc by 2·8 km (RG 5.09 p13).
Libya: The first 14 km of track has been laid for the 554 km Surt – Ben-ghazi railway, according to Russian Railways which is undertaking the work under a €2·2bn contract.
Mexico: Pöyry has been awarded a €1·7m contract running to June 2012 for project management of railway construction in Celaya.
Norway: Jernbaneverket has selected Alcatel-Lucent to deploy an IP/MPLS network to handle its communications, including signalling, passenger information and GSM-R.
Poland: A consortium led by Trakcja Polska has a 953m zloty contract to build the LCS Dziadowo control centre on the Warszawa – Gdynia line.
Budimex and Ferrovial Agromán are to modernise Wroclaw Glówny station by 2012 under a 324m zloty contract co-financed by the EU. PKP PLK is tendering track works separately.
Spain: FCC has been awarded a €1065m civil works contract for the 43 km Bergara – Antzuola section of the Y-shaped high speed network linking Bilbao, Vitoria and San Sebastián, including a 37 km tunnel.
Comsa has won a €742m contract to widen the 107 km Getafe – Pinto section of the Madrid – Sevilla high speed line from two to four tracks to accommodate services from Valencia. The 7 km Pinto – Torrejón de Velasco section was awarded to Rover Alcisa and Iberovías for €47m.
ADIF has awarded Alstom a €16·5m contract to supply Atlas 100 ETCS Level 1 equipment for the 20 km line from Castellbisbal to the Can Tunis freight terminal in Barcelona which is being converted to dual-gauge.
The Ministry of Development has awarded Coprosa and Marco a €51m contract for civil works on the 81 km Zamora – La Hiniesta section of the high speed line between Ourense and the Madrid – Valladolid line at Olmedo.
ADIF has awarded Elecnor a €298m contract to install and maintain overhead electrification equipment on the Ourense – Santiago de Compostela high speed line.
Arcelor Mittal España has won a €336m contract to supply 41000 tonnes of rail for the Palencia – León high speed line, opening in 2012.
Bombardier has won a €39m contract to supply Interflo 2000 signalling for the 90 km Albacete – La Encina line.
UK: Network Rail has awarded Morgan Est a £4m contract to re-roof the platforms at London Marylebone station, restoring wrought ironwork and installing new cladding and glazing.
EDF Energy has won a £3·1m contract to upgrade three substations in London under the Thameslink Programme.
USA: The $542m contract to build a major portion of the four-platform PATH station at the World Trade Center site in New York has been awarded to a joint venture of Skanska and Granite Construction.