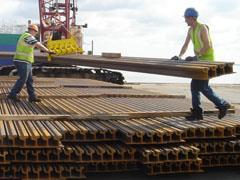 Australia: Under a A$1bn five-year contract placed by RailCorp, the Novo consortium of Laing O'Rourke, O'Donnell Griffin and Connell Wagner will undertake work on Sydney's CityRail network, upgrading the Lidcombe - Granville corridor, commissioning two turn-backs, remodelling junctions and strengthening traction supplies.
Canada: Toronto Transit Commission has awarded Aecom a C$20m contract to provide architectural and engineering services for Sheppard West and Highway 407 stations on the 8·6 km Spadina Subway Extension.
Czech Republic: 3 kV DC electrification and 90 km/h running was inaugurated on the 23 km route between Letohrad and the Polish border at Lichkov on November 20. The upgrade of the bottleneck on a route from Poland's Baltic ports to the Adriatic and the Balkans was carried out by Viamont DSP, Skanska DS and SSZ Praha at a cost of Kc1·5bn. PKP electric locos can now operate to Ústí nad Orlicí.
India: Kalindee Rail Nirman Engineers has been awarded a Rs1bn contract for track works on the Delhi Airport express rail link (RG 2.08 p000).
Iran: A Rawie is supplying 11 buffer stops for Raja Trains' depot in Tehran. They are fitted with five retarders and are capable of stopping a 20 km/h train within 20 m.
South Korea: Voestalpine has won its first order in South Korea, a €26m contract to supply 37 turnouts by June 2009 for installation on the Daegu - Busan high speed line.
Libya: On November 26 China Railway Construction Corp formally started work on building a 453 km line between Tripoli and Surt.
Poland: On December 4 PKP PLK awarded a consortium of Feroco and Torpol a 154m zloty contract to rebuild Brzeg station between Wroclaw and Opole within 24 months.
Torpol and Feroco have won a €250m contract for modernisation works on the Warszawa - Gdynia route.
Portugal: On November 2 Westinghouse and Dimetronic commissioned a trial Westlock interlocking to replace two SSIs at Coruche, 60 km from Lisboa; the interlocking approvals process is based on that undertaken at Leamington Spa in the UK.
Serbia: ZS has placed contracts worth €23·4m for modernisation of the Batajnica - Golubinci section of the Beograd - Sid main line. PORR Technobau will undertake civil works and Siemens, Jugotrade and Dalekovod will supply materials for the EIB-funded work.
Slovakia: On November 25 ZSR launched trials of ETCS Level 2 equipment supplied by Siemens under a SKr313m contract. The tests on the 92 km Bratislava - Nové Mesto nad Váhom line are using a V63 locomotive hired from MÁV. ZSSK plans to install ETCS on its 18 Class 350 dual-voltage locomotives, while ZSSK Cargo will equip its Class 363 and Class 240 locomotives.
Spain: Acciona and Construcciones Murias have won a €14·7m contract to double-track the 1·8 km Traña - Lebario section of Euskotren's Bilbao - San Sebastián route. Guillermo Ibargóyen and Balzola are to double the 680 m San Lorenzo - Universidad section in Eibar for €4m.
ADIF has awarded Nortel Networks Hispania a €24·8m contract to install and maintain GSM-R on the Barcelona - Figueres high speed line, with infrastructure for public mobile phone operators. Cobra and Logytel have a €7m contract to install obstacle detectors at overbridges and tunnel mouths, and Telvent will install power controls.
FEVE has awarded Indra contracts totalling €13·4m to supply a Da Vinci traffic control system, incorporating GPS train location and real-time monitoring of power supplies and communications. Designed initially for high speed lines, Da Vinci is in service on ADIF's Córdoba - Málaga and Madrid - Valladolid routes.
Tunisia: Sncft has selected Nokia Siemens Networks to supply a GSM-R communication network by 2010.
UK: Network Rail has awarded Ansaldo STS a €48m contract to implement the second phase of ERTMS on the Cambrian lines in central Wales.
Balfour Beatty has placed an order with Matisa for four B41UE and two B66UC continuous action tampers suitable for use on the 750 V DC third rail network in southeast England. Deliveries will be in 2010-11.
USA: Dallas Area Rapid Transit has awarded Kiewit, Stacy & Witbeck, Reyes and Parsons a $430m design-build contract for the first two sections of the Orange Line running 14·5 km from Bachman to Belt Line Road.