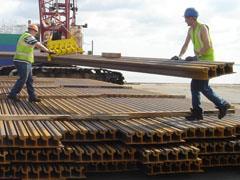 Austria: Wiener Linien has awarded Siemens Mobility a €25m contract to supply automatic train control equipment for extensions to the Wien metro. Line U2 is being extended 9·5 km to Aspern Seestadt by the end of 2013. U1 will be extended 4·7 km to Rothneusiedl by 2015.
China: Siemens and China Railway Signal & Communication are to supply Trainguard MT automatic train control for the 36 km 23-station Chongqing metro Line 1 which opens in 2011.
China Railway Materials Import & Export has ordered two rail grinding machines from Nencki for use by Baotou Iron & Steel in Inner Mongolia.
France: The first Thales PIPC G2 computer-based interlocking was brought into service near Amiens on December 1. LockTrac 6171 PIPC G2 is an upgrade of the PIPC V1 in use at more than 100 locations, and is to be rolled out nationally over 10 years.
Corus is to invest €35m to enable its Hayange mill to produce 108 m rails to be supplied under a four-year contract awarded by RFF with a two-year option which could take the value to €350m.
India: ABB has won a US$115m contract from Bangalore Metro Rail Corp to supply four substations and Scada equipment for the 42 km 41-station network now under construction.
Italy: RFI has awarded Alstom a €20m contract to supply a Smartlock interlocking for the 42 km Orvieto - Orte section of the Firenze - Roma route.
Lithuania: VolkerRail and Kauno Tiltai have completed a two-year 80m litas modernisation of the Kaunas tunnel to bring it up to modern safety standards and accommodate LG's Skoda CityElefant double-deck EMUs.
Singapore: Land Transport Auth-ority has selected Samsung C&T to construct a 1 km extension of the North-South Line to Marina South. The S$357·5m civil works contract includes design and construction of a station and associated tunnels for completion in 2014.
Spain: ADIF has awarded a Thales-led consortium a €19·7m contract to modernise signalling at seven stations on the 50 km Ronda - Gaucín route.
ADIF has awarded the final contracts for civil works on the Valladolid - Burgos high speed line, including the 12 km Villapozeque - Estépar section which is to be built by a joint venture of Extraco and Joca for €358m. Altec and Torrescámara are to build the 12 km between Estépar and the new alignment avoiding the centre of Burgos for €80·3m, including 870 m in tunnel and 200 m on viaduct.
FCC and Acciona have been awarded a €37·9m contract for additional works on the Pajares base tunnel, including the construction of six cross-passages to house transformers, safety and signalling equipment.
Alstom has been awarded a €16·5m contract to supply a Smartlock interlocking, signalling and telecoms for 25 km of line between Vigo and Portela as part of a project to allow 200 km/h running to the Portuguese border.
Switzerland: Thales is to supply ETCS Level 2 and control equipment worth SFr110m for the Gotthard base tunnel, as part of the Transtec Gotthard consortium which was awarded the railway systems contract in 2008 (RG 6.08 p355).
UK: Taylor Woodrow is to undertake works to permit the operation of three-car trains on the Beckton line of the Docklands Light Railway as a £10m option on its existing contract covering the other routes. A further £8·2m will be spent on track and signalling changes.