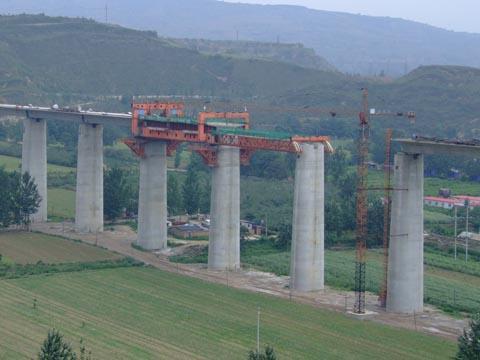 Argentina: The federal government has awarded a contract worth 30m pesos for track renewals in Entre Ríos, covering the routes from Paraná to Concepción del Uruguay and Concordia. Provincial rail agency Uefer is refurbishing five cars for passenger service.
Australia: ARTC has awarded John Holland and GHD a $250m contract for the construction of a 42·8 km third track from Maitland to Whittingham in New South Wales.
John Holland, Arup and KBR are to grade-separate rail and road routes at Nunawading in Melbourne under a A$140m contract.
Bulgaria: Infrastructure manager NRIC has awarded OHL a €35·7m contract for electrification works on the 17 km of Corridor X between Svilengrad and the Turkish border.
The EuroGeoRail consortium has been selected to develop a national rail infrastructure geographical information system, with the EU meeting 85% of the €4m cost.
China: MTR has awarded Hyder Consulting a contract covering the detailed design of lineside mechanical and electrical services for the 26 km of the planned 116 km Express Rail Link to Guangzhou lying within Hong Kong. Opening is planned for 2015.
Jingshen Railway Passenger-Dedicated Line (Liaoning) Corp has awarded China Railway Construction Corp's 19th Bureau a 3·9bn yuan contract to build Section 2 of the Panjing – Yingkou PDL. Hefei-Fuzhou Railway Corp has awarded 19th Bureau a 35bn yuan contract for the Hefei – Bengbu PDL.
The Ministry of Railways has awarded Vossloh Fastening Systems (China) a €170m contract to supply rail fastenings for most of the Beijing – Shanghai high speed line in 2009-11.
China Railway Construction Corp has won a 690m yuan contract for light rail works in Chongqing, and a 590m yuan contract for metro construction in Beijing.
Finland: RHK has appointed Pöyry and WSP Finland to design the 10 km surface section of the Ring suburban line to Helsinki airport.
Desec has supplied VR-Track Ltd with a Tracklayer TL70VR turnout laying machine able to handle 36 m turnout panels up to 36 tonnes.
India: A consortium led by Reliance Infrastructure and including SNC-Lavalin and Reliance Communications was the sole bidder for a contract to construct the 32 km first phase of Mumbai metro Line 2.
New Zealand: Balfour Beatty Rail Projects and United Group have been awarded a NZ$6·3m contract for electrification works to provide an additional third electrified track from Wellington station to the junction adjacent to Aotea Quay.
Brian Perry Civil began construction of a rail freight terminal at Wiri Inland Port with a sod-turning on June 9. The facility is being jointly funded by KiwiRail and Ports of Auckland.
Spain: ADIF has awarded a joint venture of Dragados, Tecsa and Azvi a €110·2m contract for civil works on the 7·5 km Peña de los Enamorados – Archidona section of the Antequera – Granada high speed line, including a 2·57 km viaduct to ensure that local water supplies are not interrupted.
Corsán-Corviam Construcciones has been awarded a €59·5m contract for civil works on the 3·5 km Amorebieta/Etxano – Lemoa section of the high speed line between Bilbao and Vitoria.
Civil works on an 8·7 km section of the León – Palencia high speed line, from Santas Martas to a viaduct over the N 601 road, are to be undertaken by Intersa under a contract worth €32·1m.
ADIF has awarded Copasa a €14·2m contract to build a construction base at O Irixo for tracklaying on the Ourense – Santiago de Compostela high speed line. The 8 ha site will be used for infrastructure maintenance once the new line is completed.
Copcisa has won a €12·4m contract to build a station at Requena-Utiel on the Madrid – Valencia high speed line. It will use solar energy for water heating and electricity generation.
UK: Arup and Atkins have been chosen to design the 46 km of 6 m diameter Crossrail tunnel through central London, and Capita Symonds to design the Royal Oak portal.