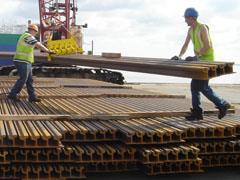 Algeria: Rail development agency Anesrif has awarded Nortel further contracts to supply GSM-R equipment for the 930 km east-west High Plateau line (RG 9.08 p699). Frequentis is supplying FTS3020 terminals.
Australia: ARTC has awarded Westinghouse Rail Systems Australia a A$14m contract for signalling on the 36 km Southern Sydney Freight Line.
Connex Mainco has awarded WRSA a A$4·5m contract to provide signalling and Westrace interlockings for the Laverton upgrade in Melbourne.
France: SNCF has selected 3Com and BT to modernise its LAN infrastructure to support CCTV and ticketing under a three-year contract.
Last month RFF awarded Alstom a €3·8m contract to supply a Smartlock 400 computerised interlocking for Mitry-Claye on Paris RER Line B.
India: Ahluwalia Contracts has been awarded contracts totalling Rs1·1bn to build Tollgate, Hosahall and Vijayanag stations on the Bangalore metro.
Ireland: IÉ has awarded German firm DS Schwellen a €23m contract to supply concrete sleepers for a number of short-term capital projects including the Kildare quadrupling, Cork – Midleton, Dunboyne reopening and the Western Rail Corridor.
Morocco: Alstom has supplied signalling equipment for Jorf Lasfar station, completing the €20·5m re-signalling of the line from Nouasseur under a contract placed in 2006.
Netherlands: ProRail has awarded the HanzaRailTeam consortium of VolkerRail, Strukton and Arcadis a €164m contract for tracklaying, catenary and noise barriers on the Lely-stad – Zwolle Hanze line which is due to open in December 2012.
Pakistan: PR has selected Bombardier to resignal the Lodhran – Khawnewal – Shahdara Bagh line in a Rs10·7bn project to be funded by the Islamic Development Bank.
Saudi Arabia: A joint venture of Foster + Partners and Buro Happold has been appointed to design stations for the Haramain high speed railway. The rapid three-year timescale means the Jeddah, King Abdullah Economic City and 'exceptional, iconic landmark' Makkah and Madinah (Knowledge Economic City) stations will share a common planning strategy, but each will have a distinct identity.
Spain: ADIF has awarded a joint venture of Dragados and Tecsa a €171·4m contract to undertake the first phase of a €520m programme to increase capacity at Madrid Atocha (RG 3.09 p30). The initial package includes the conversion of four tracks from broad to standard gauge to accommodate high speed services to Valencia, to be completed during the first quarter of 2010.
Puentes y Calzadas Infraestructuras has been awarded a €34·3m contract for civil works on the 5·3 km Valladolid - Cabezón de Pisuerga section of the high speed line between Valladolid and Vitoria. CHM is to build the 14·5 km San Martín de Valvení - Venta de Baños section for €36·4m, while the 11·3 km Torquemada - Quintana del Puente section has been awarded to a joint venture of Abaldo and Construcciones Vera for €21·7m.
ADIF had awarded a joint venture of Gea 21 and Ogensa a €45·7m contract for civil works on the 12·9 km Becerril de Campos – Valle del Retortillo section of the Palencia - León high speed line. The 10 km Valle del Retortillo - Pozo de Urama section is to be built by Aldesa Construcciones for €49·2m, while the 8·2 km between the N 601 road and Palanquinos has been awarded to Marco Obra Pública and Bruesa Construcción for €43·2m.
Sweden: Banverket has awarded Siemens a €33m contract to install six Sitras SFC Plus compact and low-noise modular static frequency converters to supply traction power in the Greater Stockholm area.
Taiwan: Mott MacDonald has been appointed design consultant for communications and ventilation works for a £1·4bn project to place 9 km of line in Kaohsiung in tunnel by 2018.
UK: Amey won all five of Network Rail's civil asset examination inspection framework contracts, which replace 20 contracts with more than 14 suppliers.
USA: Ansaldo STS has a $11·8m contract to replace an interlocking at Silver Spring on the Washington metro.
Sound Transit has awarded Railworks Track Systems a $37·4m contract for track, signal and grade crossing upgrades on 11 km of right-of-way between Tacoma and Lakewood for a future extension of Sounder commuter services.