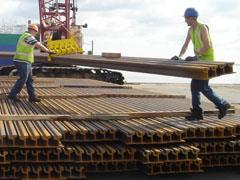 Australia: John Holland and Aecom are to undertake the A$650m extension of Melbourne's Epping commuter line by 3·5 km to South Morang.
Austria: ÖBB Infrastruktur has appointed Frequentis to undertake outsourced systems integration for its ETCS Level 2 programme, with roll-out on several major routes scheduled for December 2012.
Brazil: A consortium led by Pöyry has been awarded four contracts for the modernisation of signalling, telecoms and power supplies on São Paulo's metro and suburban lines.
Canada: The city of Hamilton, Ontario, has appointed Steer Davies Gleave to undertake detailed design for a light rail line from Eastgate Square to McMaster University, and preliminary studies for a line from the waterfront to the airport.
China: Lanxin Railway Ganqing Co has awarded China Railway Construction Corp contracts worth 13·6bn yuan for construction of the Zhangye – Hongliuhe section of the Lanzhou – Xinjiang line. CRCC also has contracts totalling 33·4bn yuan for works on the Yunnan – Guangxi, Ganzhou – Shaoguan and Liuzhou – Nanning lines.
Jingfumingan PDL Co has awarded Pöyry and Shanghai Xianxing Construction a contract for supervision work on 71 km of the 467 km Mingan section of the Hefei – Fuzhou high speed line, scheduled to open in 2015. Pöyry also has a €8·7m contract to supervise construction of 219 km of the Xi'an – Datong line in conjunction with CR Jinan Construction.
Netherlands: Dura Vermeer and Imtech have won an €18·7m contract to convert the 18 km Gouda – Alphen aan den Rijn railway for tram-train operation from December 2012 as the first stage of the RijnGouweLijn.
Latvia: LDZ has awarded a consortium of Skonto Bve, BMGS, ACB and Binders a €92m contract for double-tracking the Skriveri – Krustpils line and modernising stations, signalling, telecoms and power supplies by 2013.
Pakistan: Bombardier and China Railway Signal & Communication have been awarded contracts totalling €102m to equip the 430 km Shahdara Bagh – Lodhran section of the Lahore – Karachi line with the same EBI Lock 950 interlockings and EBI Screen 2000 control systems being supplied for Bin Qasim – Mirpur Mathelo.
Singapore: Kawasaki Heavy Industries is to supply Land Transport Agency with five 6·6 m slurry shield machines by January 2011 to bore 7 km of the 16·6 km Downtown Line stage 2.
Slovakia: Funkwerk IT is to supply AZD Bratislava with an AlisterCargo interlocking for its modernisation of the Zilina Teplicka hump yard.
Spain: ADIF has awarded a joint venture of Thales, Dimetronic, Cobra and Antalis a €136m contract to supply and install signalling and telecoms for the 88 km Ourense – Santiago de Compostela high speed line, including ETCS and ASFA ATP.
Sacyr, Neopul and Aragonesa de Proyectos y Obras have been awarded a €38m contract by ADIF to build a station at Goya on the Zaragoza suburban network.
A joint venture of Agrupación Guinovart Obras y Servicios Hispania and Detea has won a €53m contract for railway works at ADIF's new station in Huelva. Three of the five tracks will be designed for conversion from 1668 mm to 1435 mm gauge for high speed services from Sevilla.
ADIF has awarded a joint venture of Dragados and Tecsa a €21m contract for tracklaying on 66 km of high speed line between Caudete and Alacant.
Acciona Infraestructuras has won a €20m contract for track renewals on the 51 km Coscurita – Soria section of the Torralba – Soria route, including turnout replacement and improvements to 44 level crossings.
ADIF has begun work on eight broad gauge tracks at Sants under a €12m programme to install rigid catenary on 48 km of tunnel under Barcelona.
Under the project to create suburban route C5 from Sevilla to Benicazón (RG 3.10 p8), ADIF has awarded Ferrovial Agromán, Instalaciones Inabensa and Compañía de Obras Castillejos a €25m contract to build stations at Camas, Valencina-Santiponce and Salteras. Assignia Infraestructuras and Vimac are to remodel existing stations at Villanueva del Ariscal and Sanlúcar la Mayor for €16m.
Sweden: NCC has won a SKr240m contract to remodel Umeå station by October 2012 to handle Botnia line traffic and relocate freight operations outside the city.
UK: Network Rail has awarded Balfour Beatty a four-year extension to its track renewal framework contract covering southeast England, a four-year rail grinding contract and a contract to upgrade the Paisley Corridor in Glasgow. The total value is £248m.
Invensys Rail has been awarded a £48m contract for signalling renewals on the Paisley Corridor project.
USA: MTA Long Island Rail Road and Metro-North Railroad have retained Systra and Aecom to support their PTC deployment plans.