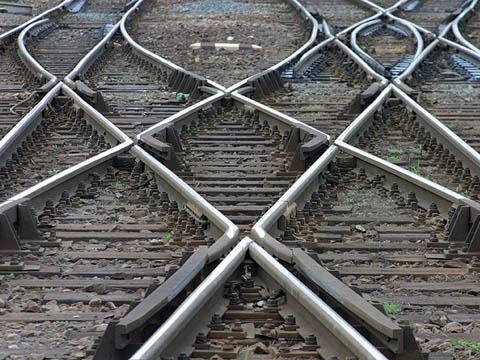 Australia: QR has won a A$100m eight-year contract for rail grinding on ARTC's interstate network.
Chile: Metro de Santiago has awarded Alstom a €5·3m contract to supply Sacem ATC on the 3·8 km Los Dominicos extension of Line 1.
China: Siemens and Beijing Huatie ITDC have won a €32m contract to supply Trainguard MT CBTC, Vicos controls and Sicas interlockings for the 32 km Guangzhou – Foshan inter-urban line. The first phase is due to open in October 2010.
Hangzhou Metro has awarded GE Transportation, Ztinstall and Supcon a contract to supply RailEdge integrated supervision and control systems for the 54 km Line 1 scheduled to open at the end of 2011.
France: RFF has named a consortium led by TDF as preferred bidder for the 15-year PPP for network-wide GSM-R (RG 1.09 p9). The consortium includes Vinci Energie, Vinci Concessions, telecoms group SFR and AXA Investment Managers Paris.
Sytral has awarded a consortium of Areva and ACC-IM a €58m contract to replace signalling on Lyon metro lines A and B with CBTC based on Areva's Pegasus system. Driverless operation is planned in the longer term.
India: Indra has won a €4·2m contract to supply and maintain contactless ticketing and access management equipment for the 12 stations on Mumbai Metro Line 1.
Lithuania: LG has awarded UAB Fima a €46m contract for signalling on 100 route-km, including the line between Kaunas and Kaliningrad, and a line bypassing Kaunas where the power supply will be modernised. Work will be undertaken in collaboration with AZD Praha, which is supplying ESA11 interlockings.
Morocco: Oncfm has awarded Indra and Spanish infrastruture authority ADIF a €3·2m contract to install a Da Vinci operations management system for the national network. ADIF owns the intellectual property rights to Da Vinci software.
Netherlands: A five-year infrastructure maintenance contract covering 300 km of track and 300 turnouts around Venlo and Eindhoven has been awarded to Strukton.
Norway: Jernbaneverket has awarded Nokia Siemens Networks a 20-year contract to support the GSM-R network it supplied and which has now been in operation for more than a year.
Saudi Arabia: Thales and Saudi Binladen Group have won a 2bn riyal contract for signalling and telecoms on the North–South railway project.
Spain: ADIF is to call tenders for the installation of a third rail for 1 435 mm gauge trains on the 22 km between Castellbisbal and the Can Tunis freight terminal in Barcelona, within a budget of €19·1m.
Thales and Dimetronic have selected Alcatel-Lucent to supply IP/MPLS communications for the Madrid – Valencia high speed line (RG 8.08 p474).
Turkmenistan: After meeting President Berdymukhamedov in February, Russian Railways President Vladimir Yakunin said RZD would be the prime contractor for the north–south line linking Iran to Kazakhstan (RG 1.08 p8).
UK: Transport for London has awarded Carillion Rail a seven-year contract worth £80m to maintain the East London Line when it re-opens in June 2010 following Phase 1 of the extension programme.
Siemens' Rail Infrastructure business is to supply fixed telecoms for the Newport area resignalling. Under a £400m programme, 23 signalling ?areas in south Wales will be controlled from a centre in Cardiff by 2015.
Corus Railway Infrastructure Services has won the design contract for the remodelling of Reading station, with Grimshaw Architects, structural engineer WSP and cost manager Turner & Townsend.
Network Rail has selected Amey-Colas, Babcock Rail, Balfour Beatty, Carillion, Grant Rail, Jarvis and Trackwork to undertake up to £800m of planned track enhancement works over the next five years.
Network Rail is to test sleepers made from recycled plastic by I-plas.
USA: A ceremonial groundbreaking for a 7 km extension of the Dallas Area Rapid Transit Blue Line from Garland to Rowlett will be held this month, following the award of a $188m design and build contract to Austin Bridge & Road. Completion is scheduled for December 2012.