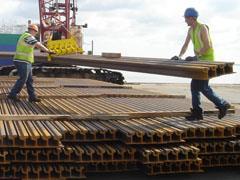 Austria: ÖBB has awarded the Alptransit Energie consortium of Rhomberg Bahntechnik and DB Bahnbau a €39m contract to supply electrical equipment for the quadrupling of the 41 km Kufstein - Innsbruck section of the Brenner corridor.
Algeria: Dessau has a US$38·8m contract to undertake final design for reconstruction of the 170 km section of Aneserif's Rocade Nord between Bordj Bou Arreridj and Thenia. The work is being undertaken by a consortium of Ccecc and Ozgun.
China: Ansaldo STS has been awarded a US$16·4m contract to supply CBTC for Hangzhou Metro Line 1 as part of its alliance agreement with Zhejiang Zheda Insigma Group.
Chile: Arica port operator EPA has selected Comsa to undertake a US$29m rehabilitation of the 206 km Chilean section of the Arica - La Paz line. After four years' suspension services are expected to resume this year.
Italy: RFI has selected Samyn & Partners, Studio Bargone and SETI to design the proposed €32·5m Vesuvio Est station on the Napoli - Salerno high speed route.
Qatar: A joint venture of Al-Naboodah Contracting and Group Five of South Africa has been selected for a $110m contract to build the station shell for an express rail link to New Doha International Airport.
Saudi Arabia: Rail.One is to supply 600000 concrete sleepers suitable for 32·5 tonne axleloads for Contract 400 of the North-South Railway.
Slovakia: ZSR has awarded a €290m contract to modernise a 20 km section of the Bratislava - Zilina line by 2013 to Strabag, Porr, Alpine Bau and Max Bögl.
South Africa: Gesat has appointed Ansys as installation subcontractor for the modernisation of Transnet's Bayhead marshalling yard in Durban.
Spain: ADIF has awarded Copasa the €26m last civil works contract for the Santiago de Compostela - Ourense high speed line, comprising the final 1·5 km into Ourense station.
ADIF has awarded Corsán-Corviam and Vimac an €84·4m contract for civil works on the 12 km Pinos Puente - Granada section of the Antequera - Granada high speed line. Work will include the construction of 4·6 km of new alignment for the parallel 1668 mm gauge route, removing nine level crossings.
Vimac, OHL, Siemens and Deneo have been awarded a €65m contract to electrify the 155 km Vigo - A Coruña route at 25 kV AC, as part of the upgrading programme for future high speed operation. Work will include the replacement of 50 Hz track circuits at Santiago de Compostela.
Pavasal and Nortúnel have been awarded a €46m contract for civil works on the 3·5 km Aspe - El Carrús section of the high speed line between La Encina and Murcia. This includes a 1·7 km tunnel and 222 m on viaduct.
Bombardier has won a €45m contract to install signalling and telecoms on the 1668 mm gauge route being built between Albacete and La Encina, where the existing alignment is to receive standard gauge for high speed operation. Electrification of the 76 km between Albacete and Almansa is to be undertaken by Inabensa, OHL and Siemens for €21m.
Sri Lanka: The Ministry of Transport has Voestalpine Schienen rails under an €8·9m deal be 85% financed by Austria's UniCredit Bank.
UK: Jacobs Engineering is to design a 1 km avoiding curve at Ipswich as part of Network Rail's enhancement of the Felixstowe - Nuneaton corridor to accept larger container trains and increase capacity at Ely.
The Signalling Solutions joint venture of Alstom and Balfour Beatty Rail Projects has been awarded a €9·5m contract to supply Smartlock 400T to replace three relay interlockings in Southampton from April 2011.
USA: Amtrak has contracts with a combined value of US$49·5m for upgrading of its train maintenance and servicing depots at Hialeah in Miami and in Los Angeles by February 2011.
Harsco is to supply Utility Track Vehicles worth $6m to power maintenance and snow clearance trains on the Washington metro.