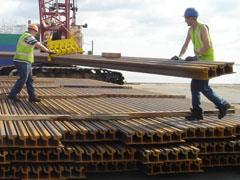 Czech Republic: Viamont DSP and Subterra have completed a KC533m modernisation of the junction at Sokolov, now controlled by ESA 11 interlocking equipment supplied by AZD Praha. The final section of the Karlovy Vary – Cheb route will now be converted from left to SZDC's standard right-hand running.
Finland: RHK has awarded Invensys Rail its first Finnish signalling project, resignalling 14 km of main line and a depot at Siilinjarvi with seven Westrace interlockings.
France: RFF has awarded its first contract for ETCS Level 1 on conventional routes. In the €7·5m first phase Alstom will test Atlas 100 on the Longuyon – Mont-Saint-Martin and Thionville – Zoufftgen routes. Subsequent phases of the five-year contract will see 4100 signals equipped.
RFF signed an agreement with SNCF Infra on October 16 to reduce the number of infrastructure-related delays on 17 Transilien suburban routes in Paris. This follows an accord with STIF on July 17 under which RFF committed €983m to improve the Ile-de-France rail network in 2009-12.
Israel: Hofrey Hasharon has won a US$171m contract for 0·8 km and 2·9 km tunnels on section D of the A1 fast link to Jerusalem. Shafir Civil & Marine Engineering has been awarded a 1·6bn shekel contract for section C.
Lithuania: Desec has supplied a TL70 GTC turnout laying machine to LG subsidiary UAB Tiesimo Centras.
Netherlands: ETCS Level 1 compliant Atlas signalling from Alstom was commissioned on the 45 km Havenspoor line between Vaanplein and Maasvlakte on October 4, providing ETCS for the full Betuwe Route.
Pakistan: Bombardier and China Railways Signal & Communications Corp have been awarded a resignalling contract covering 23 electronic interlockings between Bin Qasim and Mirpur Mathelo.
Poland: PKP PLK has selected Bombardier Transportation's 65·9m złoty bid to install ETCS Level 2 on the section of corridor E-30 from Legnica to Wegliniec and Bielewa Dolna on the German border.
Tchas has been awarded a 470m złoty contract to modernise 29 km of the Warszawa - Gdinya route between Swiercze and Ciechanów for 160 km/h running by 2011 in partnership with three local firms.
Singapore: Parsons Brinckerhoff is to design mechanical and electrical elements of phase two of the Downtown Line, scheduled for completion in 2015. Alpine Bau has won an S$670m contract to build three stations and a 6 km single-track tunnel, the final civil works contract for phase two.
Slovakia: A consortium of OHL ZS Brno, Skanska BS Prievidza, Váhostav-SK Zilina, Doprastav Bratislava and Eltra Kosice has begun a €264m modernisation of the 17·5 km Nové Mesto nad Váhom – Zlatovce section of the Bratislava – Kosice – Cierna nad Tisou route. Partly funded by the EU Cohesion Fund, it includes a new 1·7 km tunnel.
Spain: ADIF has awarded Ferro-vial Agromán a €83·8m contract for civil works at Venta de Baños for a 4·6 km section of the Valladolid – Burgos route and a 3·3 km spur to the Valladolid – Palencia route.
Work has started on the €107m extension of Mallorca's metre-gauge railway from Manacor to Arta, to be opened in three phases to Son Carrió, Son Servera and Artà by 2011.
ADIF has awarded Pöyry a €1·3m contract to design the 15 km Talayuela – Navalmoral section of the planned Madrid – Lisboa high speed line.
UK: Skanska has been awarded a £59m contract to build the 400 m Borough Market viaduct near London Bridge as part of the Thameslink Programme.
USA: Amtrak has awarded Jacobs Engineering Group a contract potentially worth in excess of $560m for the management of more than 100 infrastructure projects funded by the government stimulus package.